Japan: Yoshihide Suga to succeed Shinzo Abe As Prime Minister
Yoshihide Suga picked by Japan's governing party to succeed Shinzo Abe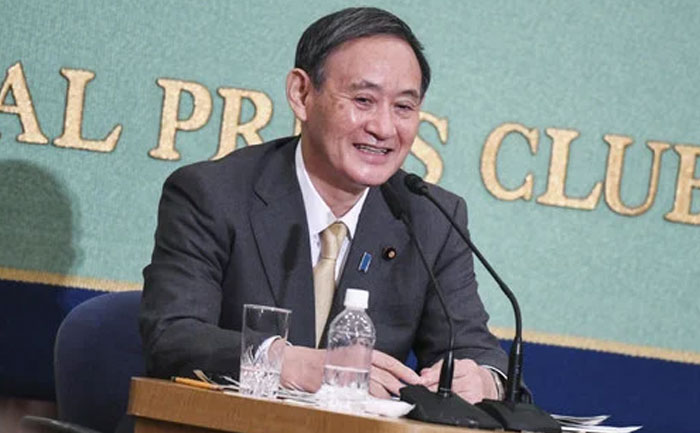 Japan's ruling party Liberal Democratic Party has finally found the perfect man to succeed outgoing Prime Minister Shinzo Abe. He is none other than Chief Cabinet Secretary Yoshihide Suga, the right-hand man of the outgoing Prime Minister. Yoshihide Suga was elected as the new president of the ruling Liberal Democratic Party on Monday, thus setting him on course to be the next PM of Japan.
Mr. Suga won the vote for the presidency of the conservative Liberal Democratic Party (LDP) by a large margin. He took 377 of a total of 534 votes from lawmakers and regional representatives. He saw off two other contenders – Fumio Kishida and Shigeru Ishiba. Kishida came second with 89 votes. Whereas Ishiba came last with 68 votes.
After his landslide win, Suga said, "We cannot have any void in policy. It is my mission to carry forward what has been done under Prime Minister Abe. I want to create a government that people can trust. I will push ahead with deregulation and put an end to ministry sectionalism, endemic vested interests, and the practice of blindly following past precedents. I will create a working cabinet."
As the Liberal Democratic Party has chosen their President. There will be a vote on Wednesday in the parliament that will certainly seal Mr. Suga as the prime minister because of the LDP's majority. Taking over mid-term, he is expected to stay in post until elections due in September 2021.
Suga will have to face rising tensions with China, the outcome of the U.S. presidential election in November. Also, steer Japan clear through the coronavirus pandemic.
Shinzo Abe, Japan's longest-serving prime minister, had announced his resignation on August 28 on health grounds.
Also Read: Japanese Prime Minister Shinzo Abe resigns over health issues