You Tuber Jeffree Star get's 'Bro Makeover', the internet loses its mind
Jeffree Star switches places with Dolan Twins, and fans are saying he's unrecognizable. ...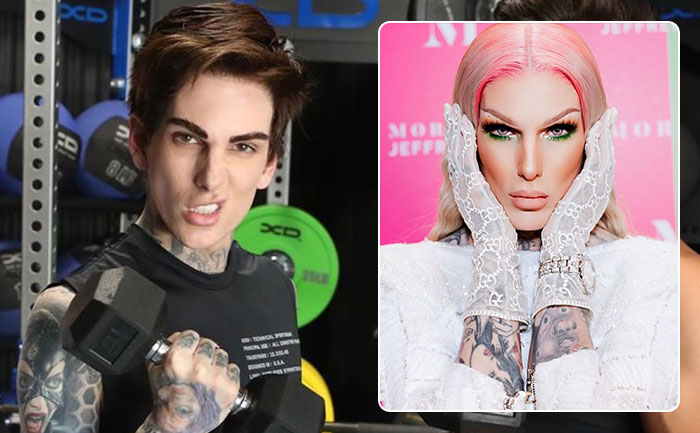 You Tuber Jeffree Star who is best known for his extravagant makeup looks is quite popular. He has almost 15.9 million subscribers who follow the You Tuber zealously. Star is also known for his cosmetics line named the Jeffree Star Cosmetics. Recently the popular YouTube went for a bro-makeover that has left the internet buzzing.
Star switched places with popular YouTubers the Dolan Twins who have 10.4 million followers on YouTube. The 19-year-old twins Ethan and Grayson Dolan transformed Star into Jeff Dolan their long lost fictional brother.
Check out the video to witness the transformation of Jeffree Star into Jeff Dolan here:
In the viral video that has left internet buzzing Star has left his pink designer outfits and transformed into a bro-version of himself. He also hit the gym like them, drank protein shakes, skateboarding and many other things.
Soon tables turned and the Dolan Twins transformed into Jeffree. Like him, they also sported long pink wigs, on-point makeup and Adidas tracksuits.
Check out the video here:
They also went shopping at designer stores and eating fast food like true queens.
Truly the power of makeup knows no bounds.
Here is some more on the popular You Tuber. Fans know that Jeffree Star loves Taco Bell. Recently the makeup guru has inspired an artist to create an epic portrait from his fast food of choice.
Twitter user André Manguba shared a photo of the creation, which includes sauce packets, a quesadilla, chips and more. The tweet soon got a response from Star who tweeted,
Oh my god!!!! ?? Who knew I could be hungry looking at myself… You are beyond talented!!! ? https://t.co/bPURVsVqpV

— Jeffree Star (@JeffreeStar) August 15, 2019
What do you think of Star's epic transformation? Do share your views.
Also Read: CNBLUE's Lee Jong Hyun Makes Comeback on Instagram, Reveals YouTuber