Zero tolerance policy for mob lynching: Kerala HC Judge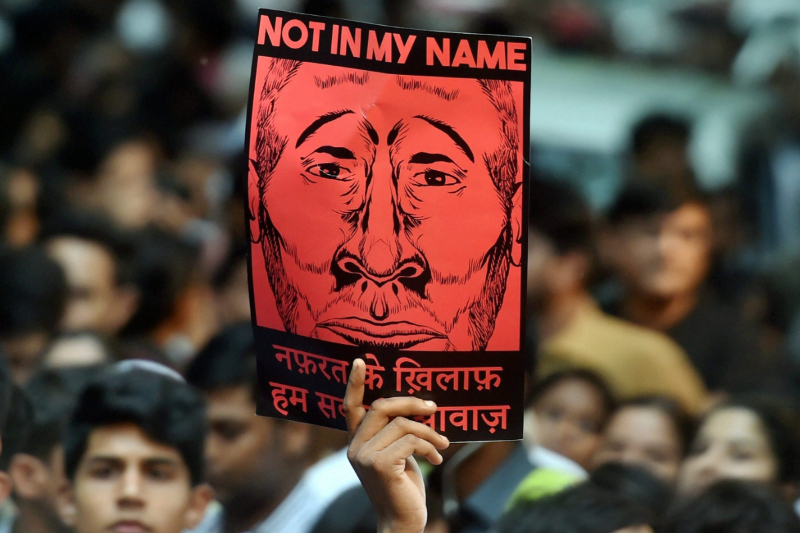 There should be zero tolerance against mob lynching and violence against women and children, a Kerala high court judge said on Monday. On Sunday, July 1, five people were lynched in the Dhule district of Maharashtra over suspicions that they were part of a gang of "child-lifters".
Last Thursday, June 28, three people were beaten to death in separate incidents in Tripura.
These were the latest in a string of nearly 30 similar killings in recent months across the country.
Justice Devan Ramachandran said, "In the septuagenary year of our Constitution, we find distress in the kind of news that you see around you – of human rights violations, human rights transgressions, custodial violence, misogynistic violence, attacks on children, vigilante justice. Look at the number of vigilante justice cases coming up. See today's paper. The front page is completely devoted to these news. Is this what we really wanted for our country? There are no quick fixes, I know. There are no easy solutions. But in my view, unless we have a no tolerance philosophy to this, this is not going to stop. It has to be zero tolerance. We cannot permit even a thought that would dilute the preambler and the constitutional imperatives."
Considering violence against women and children as common place is the most dangerous, justice Devan said while speaking at launch of advocate Kaleeswaram Raj's book 'Indian Bharanakhadana: Paadangal; Padabhedangal'.
"Some recent events that have happened which draw into focus misogynistic violence really pains us because we are not concerned about the persons involved, we are not concerned whether the persons involved are guilty or otherwise, because it doesn't matter. They might as well be innocent tomorrow after trial, we don't care. But the fact that we are able to take it something that is tolerable or condonable, for any reason, that hits the death knell on our constitutional imperatives. We cannot even show an indication, we cannot even whisper that such tendencies can even be considered to be tolerable or condonable. It doesn't matter whether it restricts the rights of individuals. As a nation, as a community, it is upon us to ensure that each of us act within that limits of the constitutional parameters and no such event, especially misogynistic violence and attack against children, are considered common place," justice Devan stated.
The right to exercise a right to freedom of expression and a right to live seem to juxtapose in a manner that both will cease to exist.
That's what Sashi Kumar believes when he states that the situation is such that those who exercise their right to speech and expression have to forfeit their right to life.
Commenting on the mob-lynch mentality setting in in the society, media veteran Sashi Kumar said, "The Constitution is also challenged also because of the peculiarity of our times – lynch-mob mentality. We find the extra-constitutional at a premium today. We find the extra-legal at a premium today. A film is released not because it gets a certificate by the statutory authorities or by censor certificate but because certain pressure groups will decide whether the film will run or not. And if they decide it will not run, it will not run. It's decided on the street. We have seen similar situations. We have seen the idea of a katta panchayat becoming the norm across the country. Recourse to proper legal mechanisms seem to be pushed to the margins. The law of the street seems to prevail. And these are, I think, dangerous omens for our constitutional scheme of things as well."
"We have a situation where if you exercise your rights under Article 19 1 (a) and (g) – your right of freedom of speech and expression – whether as a citizen or as a derived right which we practitioners of the press follow, you are in danger of forfeiting your right under Article 21. In other words, if you exercise your right of freedom of speech under Article 19, you forfeit your right under Article 21, which is right to life, as Gauri Lankesh and Shantanu and many other journalists – about 9 or 10 journalists in recent times – starkly remind us. So these glaring contradictions in the Constitution are now for the first time staring us in the face in the manner that it is today," he stated.
Justice AK Jayasankaran Nambiar, who released advocate Kaleeswaram Raj's book 'Rethinking Judicial Reforms: Reflections on Indian Legal System', said those criticizing judgments should assume the role of a dissenting judge. "If you are commenting upon a judgment, put yourselves in the shoes of a judge who is deciding that case and try to find an alternate view to the majority or to the judgment which you are criticizing. That ensures two things – it keeps you within the arena of the judgment or it keeps you within the scope of the topic and it also serves to help you or it guides you in the distinction that you want to make with the point that has already been taken by the person who has authored the judgment," he said.
Notwithstanding the claims and counter-claims on government efficiency — or the abject lack of it — what's needed now is a strategy to combat the problem of lynching, which needs to be implemented at the earliest. This is a state of emergency, an extraordinary crisis that needs extraordinary measures, exemplary punishment and unprecedented action.
But, to do all that, the government first needs to acknowledge the problem. It needs to break its silence. Who needs to be the judge and who shouldn't be the judge is a matter of concern only of the law.
As they say, the world suffers a lot, not because of the violence of bad people, but because of the silence of "good people".