Mumbai live updates: Piyush Goyal says he has directed officials to speed up repair work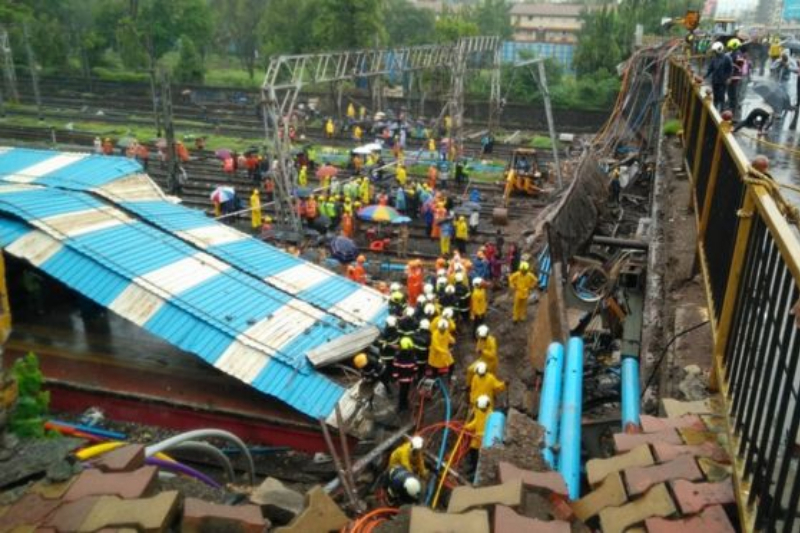 On Tuesday, 3rd July 2018, The bridge connected Andheri West and East collapsed on a railway track. This is just start of the July rains and the city is already facing with vulnerable reports of submerged roads and slow traffic movement and now, the bridge collapse.
According to an RTI query last year, the Western Railways authorities had claimed that all the foot-over bridges were completely safe. The authorities had responded to the query citing an audit report after the Elphinston road bridge collapse last year.
Western Railway train services are running between Goregaon-Virar, and Bandra-Churchgate. The restoration of the tracks between Andheri and Vile Parle is underway.
WR Suburban services running between Goregaon – Virar and Bandra – Churchgate. Restoration on in full swing. Harbour lines between Andheri-Vile Parle expected to be cleared soon. #WRUpdates pic.twitter.com/pLPGn1R4Ci

— Western Railway (@WesternRly) July 3, 2018
Also Read: Western railway affected due to falling of part of ROB
Western Railway said that the Andheri bridge which collapsed on Tuesday was not under the jurisdiction of the Railways. Western Railway public relations officer (PRO) Ravindra Bhakar said, "The railways conducts audits of all bridges under its jurisdiction. In this case, the bridge was under the jurisdiction of the BMC. However, an officer from the rail safety department will conduct an inquiry into the incident."
Five people were injured in the bridge collapse in Andheri. Their names are:
1) Dwarka Prasad
2) Harish Kohate
3) Manoj Mehta
4) Gindhami Singh
5) Asmita Katkar
Among five injured, 4 are men and 1 woman. The injured have been sent to Cooper hospital, Pramod Babar, senior police inspector told press.
"Part of road over bridge has fallen on tracks near Andheri Station. (I have) directed officials to speed up repair work and rapidly restore traffic in close coordination with other departments. I have also ordered an enquiry by commissioner of rail safety," Railway Minister Piyush Goyal said in a tweet.
Part of Road Over Bridge has fallen on tracks near Andheri Station impacting rail traffic. Directed officials to speed up repair work and rapidly restore traffic in close coordination with other departments. I have also ordered an enquiry by Commissioner of Rail Safety.

— Piyush Goyal (@PiyushGoyal) July 3, 2018
Also Read: Mumbai live updates: Bridge collapses on railway track near Andheri