Zomato Delivery Boy Accused of Attacking Bengaluru Woman Refutes Charge
Zomato Delivery Boy Accused of Attacking Bengaluru Woman Counters Her Charge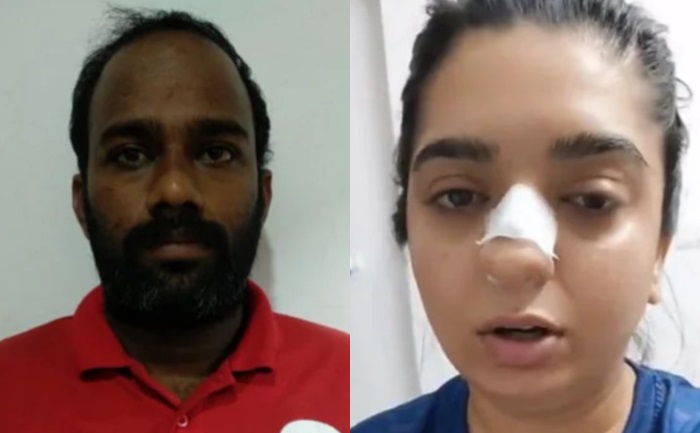 Twitter was recently abuzz when Hitesha Chandranee a model-turned-makeup artiste from Bengaluru accused a Zomato employee of hitting her. Hitesha posted a video clip on social media platforms alleging she was hit by a Zomato delivery executive following an argument over delayed food delivery. In the four-minute video clip, she could be seen with a bloody gash on her nose.
Zomato was quick to respond to her video assuring that they are in touch and will provide the necessary medications. The delivery boy was soon booked and arrested by Bengaluru police for allegedly attacking the 'Instagram influencer'.
While many lauded Chandranee for highlighting the matter on social media, others demanded to know the delivery man's story too
Finally, the Zomato delivery boy accused of assaulting the Bengaluru woman has opened up. He has refuted all the allegations, claiming it was the woman who first verbally abused him, and then threw a slipper at him.
Here is what he said:
In an interview with The News Minute, the delivery person named Kamaraj said, "After I reached her apartment door, I handed her the food and I was expecting her to pay me. I also apologised since the delivery was delayed due to traffic and bad roads. But she was very rude from the outset and kept on insisting that the order has to be delivered within 45-50 minutes. She refused to pay for the order. She even called me a slave. The Zomato support told me that the order has been cancelled, but the woman refused to give back the food. As i was leaving she started hitting me with her slipper. As I tried to protect myself, she accidentally hit herself with her finger ring on the nose. The gash on her face is due to her ring. The problem is there is no CCTV footage to prove my innocence."
Now, the founder of Zomato, Deepinder Goyal, has issued a statement in the ongoing fiasco. Goyal took to Twitter to post a crisp statement regarding the 'incident that happened in Bengaluru a few days ago'.
Check it here:
I want to chime in about the incident that happened in Bengaluru a few days ago. @zomato pic.twitter.com/8mM9prpMsx

— Deepinder Goyal (@deepigoyal) March 12, 2021
Deepinder Goyal also added that Kamaraj, the delivery agent the Instagram celebrity accused, had a 4.75/5 rating, which is the highest and has done over 5,000 deliveries for Zomato. He also added that he has been with the company for 26 months. He further added that they are supporting the lady with her medical expense but also helping their employee.
What are your thoughts regarding this? Do share it with us.
Also Read: Bangalore: Woman alleges Zomato delivery guy punches her, gets arrested