Zomato Row: Influencer Hitesha Leaves Bengaluru After Address Leak
Zomato assault case: Hitesha Chandranee flees Bengaluru after police complaint and trolls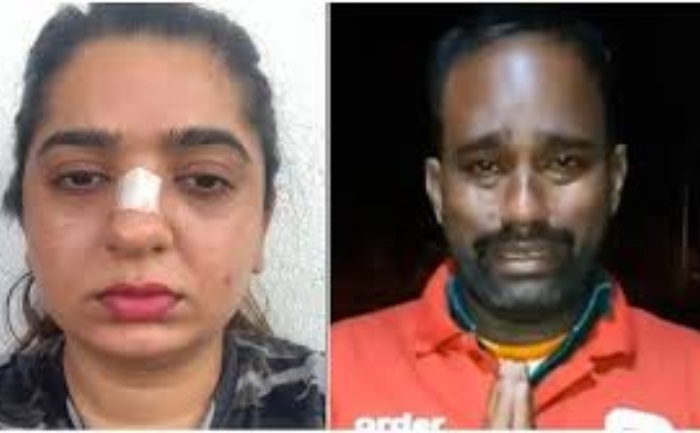 A day after an FIR was registered in the Zomato controversy, Hitesha Chandranee has left Bengaluru. An FIR was registered in the case between a Bengaluru-based influencer and the Zomato delivery executive. She alleges hit her and left her bleeding. Kamaraj, the delivery man, filed an FIR against Chandranee.  Alleging she hit him first. Today, the city police say that when they visited Chandranee's flat, nobody was at home she has left the city.
"We called Hitesha to appear before the investigating officer for questioning after Kamaraj filed a case of assault against her. But she said she had left the city and is at her aunt's house in Maharashtra," the TNIE report quoted Electronics City police as saying.
The police further added that they have given her time to make her statement once she returns, But if she fails to do so then they will arrest her.
A News Minute report states that Hitesha's home address was leaked online causing safety concerns. This is being cited as the reason for her moving out of Bengaluru.
Chandranee made headlines when, on March 10, she released a video on Instagram alleging that Kamaraja a Zomato delivery boy had hit her. To counter her allegation Kamaraj said Chandranee had hit him and when he raised his arms to defend himself, she hurt herself with the ring on her hand.
FIR has been registered against Chandranee under sections 339 (wrongful restraint), 355 (assault), 506 (criminal intimidation) of the IPC at Bengaluru's Electronic City police station.
Also Read: FIR Filed Against Hitesha Chandranee Who Accused Zomato Delivery Boy Of Assault