Daily Horoscope 18 March 2021: Check Astrological Prediction For All Zodiac Sign
Check out today's Horoscope for all the zodiac signs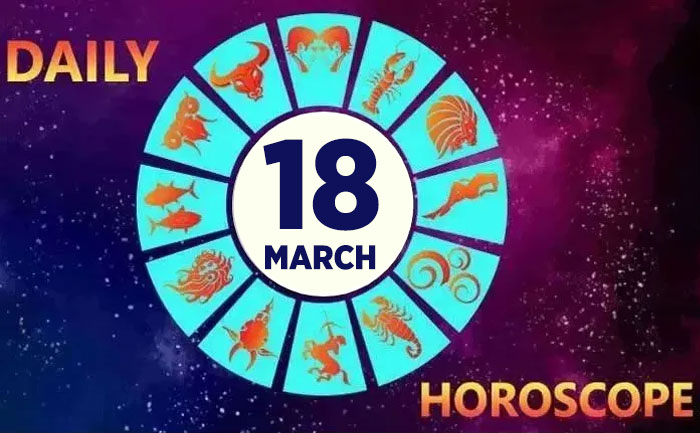 Horoscope Today, March 18, 2021: IF TODAY IS YOUR  BIRTHDAY: Your lucky number is 9.  Being a Pisces born on March 18th, your personality is defined by an experimental and passionate nature.  You have a truly adventurous spirit that will allow you to try anything once. Lovers born on March 18th are one of the most romantically idealistic signs of the horoscope. Your lucky colour is light coral and the lucky numbers for you are 14, 23, 26, 54 and 74.
In this article, we have brought you today's astrological predictions for all the sun signs like Gemini, Scorpio, Leo, Taurus, Cancer, and others. Check out the astrological prediction for all zodiac signs.
HoroscopeToday, March 18, 2021: Check today's astrological prediction from all sun signs
Daily Aries Horoscope:
Authority figures will be helpful to you today. This could mean that your seniors in the workplace will guide you in whichever manner it is required.  Use the facilitation of others to your best advantage today. The lucky colour for you today is  Red. Today, you are likely to have a flirtatious encounter with someone in a social situation.  This could be a friend of a friend or even an accidental meeting with someone. Just enjoy it for the moment it lasts.
Daily Taurus Horoscope:
You may be coming down today from a recent spate of frustrations and difficulties, so take the day to rest and relax. Your current hurdles will be resolved in the long run. Keep your temper in check and resolve issues to the mutual benefit of those involved. Spend some special time with your friends and family.  Blue is the colour of the day for you. Today an old friend or partner will be coming back into your life.  Don`t get too attached, they are likely to leave again.
Daily GEMINI Horoscope:
Today you may find that your connections to influential people are quite strong. One of these people is likely to come to your aid if you need a special favour.  Do not be afraid to call on this person today but do remember you will have to return the favour in the future.  Seas Green colour is lucky for you.  Those of you who have been looking for a romantic partner will meet with success.  It is likely that this person is residing overseas.
Daily CANCER Horoscope:
Today you will need to use your social skills and your skills of diplomacy to manage various touchy situations, both in the workplace and outside of it. If anyone approaches you negatively, just be polite and leave the situation. Things will return to normal again soon. Crimson will prove lucky today. On the romance front today you will find that this is a wonderfully romantic day.
Daily Horoscope LEO:
Today beware of misunderstandings that may creep into your social life. Watch your language and choose your words carefully in order to avoid accidentally offending your friends. Today play it safe and you may find all your relationships intact at the end of the day. Purple is your lucky colour for today. You may find love in a most unexpected place today, coming from a long-standing friend. Time is fruitful for a relationship to blossom.
Daily VIRGO Horoscope:
You find that long-overdue paperwork is completed with surprising ease. All you needed was a bit of motivation. Today will be a window for you to get approvals for your projects. This is your chance to make the most of this opportunity and ensure that you have all the documents in order. Yellow is the lucky colour for you. Romantically you will see that today obstacles fall out of your way and your path heads in the direction you were hoping for.
Daily LIBRA Horoscope:
It is your luck rather than your courage and determination that will help to carry you through the day. Today is a day when everything goes your way. Ride this wave of luck and good fortune and it will carry you through. Today singles are likely to find themselves going on a first date with someone. This may either be someone you just met, or it could even be a long-time friend. Sky Blue is your lucky colour.
Daily SCORPIO Horoscope:
You may not see eye to eye with a person in a position of power. Your best bet lies in being tactful and diplomatic. You have to be articulate in trying to get your views across and losing your patience will not help in any way. Today you can enjoy the developments in your realm of romance. Today you may find that your mate may tell you something you have been longing to hear.
Daily SAGITTARIUS Horoscope:
This is a favourable day to start and finish work that needs the approval of a higher authority, especially if the matter has been pending. You will be able to come up with brilliant ideas.  Make sure you keep all the documents ready and facts in place as the removal of hurdles from your path today.  will be a real blessing. If you are single you may communicate your feelings to someone you have your eye on. Orange is lucky for you.
Daily CAPRICORN Horoscope:
Authority figures may create problems for you today. This is one time when you need to tread very carefully. There are certain unpleasant forces around you at this time. Be cautious in your approach or you could fall into a trap with people in powerful positions. Avoid the colour Green today. You are likely to be invited out today for coffee and will find this casual outing turns into something more intriguing.
Daily AQUARIUS Horoscope:
You may find your social and professional standing boosted today through a contact that you have made who can make good things happen for you. Nurture it because it will bring changes into your life that you may not expect but will enjoy. Those of you who are in a long-distance relationship may get some good news about the unexpected arrival of your partner today. Blue is the colour for you today.
Daily Horoscope PISCES
Authority figures will be helpful to you today. Be open to your superiors about the problems you are facing and discuss how the atmosphere of the office can be changed to bring in positivity. Demanding or forcing them to listen will not help. Mutual co-operation will bring results. Today a reunion is in store for you on the romantic front. Don`t miss this opportunity to catch up with this person and see if the sparks will still fly.
Also Read: Pisces Love Horoscope: Personality, Traits, Compatibility & Celebs Born Under This Zodiac Sign