Indian Idol 11: Wedding Bells Ringing for Aditya Narayan and Neha Kakkar?
On the sets of Indian Idol 11, Aditya Narayan's parents proposed with his son's matrimony offer for Neha Kakkar. Read to know more.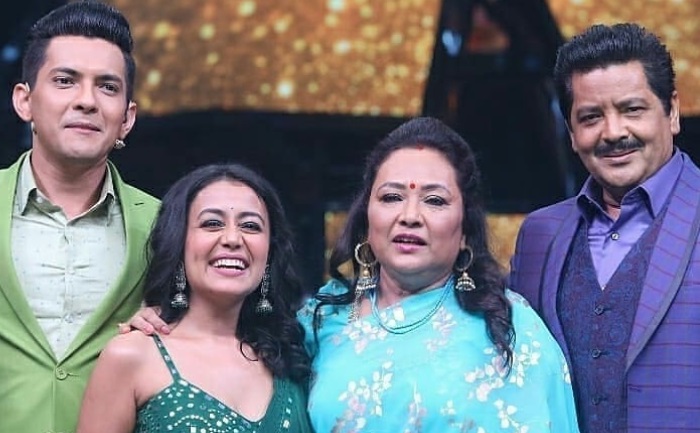 This week, Bollywood's most loved singers Alka Yagnik and Udit Narayan will be making their appearance on the singing reality show, Indian Idol 11. In the show, Udit Narayan got into a fun-filled banter with the judge Neha Kakkar as the former constantly teased by taking Aditya's name during the episode.
Udit Narayan especially mentioned that he has been ardently following Indian Idol season 11 since its beginning. "All the contestants are extremely talented." He further stated that there was another reason which made him come on the stage of India Idol 11 that was he is interested in making Neha his daughter-in-law.
Not only Udit but Aditya's mum Deepa Narayan also came on the sets of Indian Idol to convince Neha so that she becomes the 'Bahu of the Narayan khandan.' Aditya was seen visibly happy, Neha quipped that if she gets married to him so early, then there would be no joy left among them.
Neha Kakkar and Aditya Narayan share quite a friendly compatibility on Indian Idol 11 and might also make for a good looking couple.
Talking about her love life, Neha just got out of a break-up with her long-time boyfriend Himansh Kohli. The twosome had decided to marry on 'Indian Idol 10' but ultimately, things took an unpleasant turn for several purposes best known to them and they chose to part ways.
Reportedly, there were talks that the 'Indian Idol 10' candidate Vibhor Parashar and Kakkar were in a link as they were often seen together at outings, stage shows, parties, etc. But, both of them, denied the rumors.
Do you think Neha Kakkar and Aditya Narayan make a good couple? Let us know your views.
ALSO READ: Indian Idol 11: Neha Kakkar Sings "Channa Mereya" For Her Ex Boyfriend On The Show