Air Strikes at Iran-Backed Iraqi Militia Leaves 6 Dead, 3 Critically Wounded
After the killing of General Soleimani, Iran-backed Popular Mobilization Forces was hit by an airstrike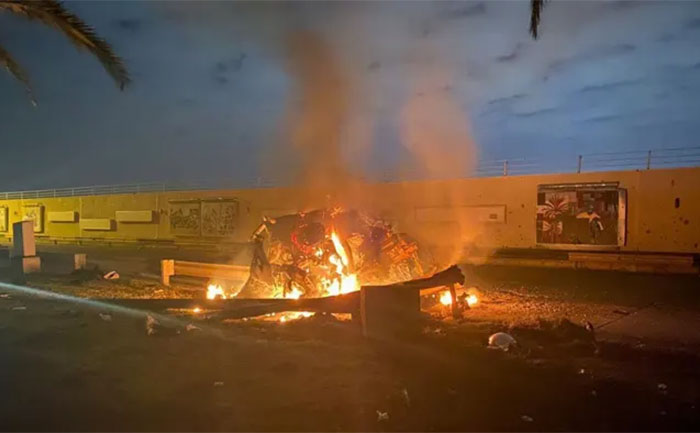 War clouds are looming high ever since a United States airstrike killed IRGC commander General Soleimani. The news was confirmed by the Pentagon while Iran's Supreme Leader Ali Khamenei has promised: "a harsh retaliation" along with three-day mourning for the nation. Similarly, Iranian President Hassan Rouhani also promised that Iran will take revenge against the US.
Soleimani was the leader of the Quds Force, an elite Iranian military and intelligence unit. He one of the country's most powerful military and political figures. Trump has said Soleimani was plotting "imminent and sinister attacks" on American diplomats and service members in Iraq.
Now a convoy including Iran-backed Popular Mobilization Forces was hit by an airstrike early Saturday in north Baghdad, killing and wounding several, according to the PMF. Airstrikes targeting Iraq's Popular Mobilization Forces (PMF) near camp Taji north of Baghdad have killed six people and critically wounded three, an Iraqi army source said late on Friday.
The identities of those who are killed are not immediately known.
#BREAKING
Airstrike hits two vehicles of a convoy in Taji, north of Baghdad, Iraq.

Reports indicating this was carried out by U.S. forces.

Hezbollah-associated outlet confirms the strike.

This could be an attack on #Iran-backed Asaeb Ahl al-Haq militias. pic.twitter.com/esNZE1UrZz

— Heshmat Alavi (@HeshmatAlavi) January 3, 2020
Iraqi state news also reported the strike against the paramilitary forces. This attack comes a day after the airstrike ordered by United States President Donald Trump that killed Iranian commander, Qasem Soleimani.
Tensions between the U.S. and Iran — already fraught since the Trump administration's departure from the nuclear deal — have escalated drastically in the past month. But the latest airstrike has been met with concern by European officials and the United Nations, who have called for de-escalation.
Also Read: World War 3 Trends Online After US Kills Iran General