Alastair Cook bids adieu to cricket with a century; Twitter reacts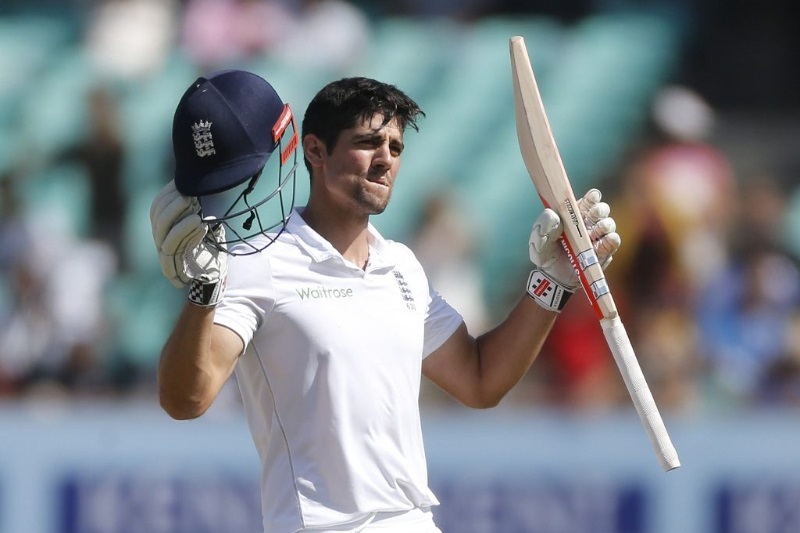 Retiring England batsman Alastair Cook joined an illustrious list of players in cricket history after scoring a brilliant century in his final Test at The Oval on Monday.
Cook, 33, had announced his decision to retire from all forms of the game following the fifth and final Test against India and while he made an illustrious 71 in the first innings of his last international match, the 'Chef' (as Cook is fondly called) recorded a hundred in the second innings – his 33rd century – and is currently batting on 134 on Day 4.
The former English opener, who had scored a century in his debut Test against India in Nagpur, 2006, joined an elite list of cricketers to have scored a ton in his first and last international Test match. Only four players before Cook had achieved the feat.
Reggie Duff (1902-1905)
Bill Ponsford (1924-1934)
Greg Chappell (1970-1984)
Mohammad Azharuddin (1984-2000)
Alastair Cook (2006-2018)

Cook becomes just the fifth man to score a century in his first and last Tests! ?#ENGvIND #CookRetires #ThankYouChef pic.twitter.com/vU9T4alNix

— ICC (@ICC) September 10, 2018
Also Read: Happy that Jadeja played just one game: Paul Farbrace
Australia's Reginald Duff was the first cricketer to have reached the milestone when he scored 104 against England in the second innings of his debut Test in 1902. Three years later in his 22nd and apparently last Test Duff score another 146 against the same opposition at The Oval.
India's Mohammed Azharuddin was the last batsmen before Cook to have achieved the landmark. He to date remains the only Indian to be the illustrious list. The former Indian captain, who has the unique record of scoring three centuries in his first four innings made 110 in his debut Test against England in 1984 at the Eden Gardens. He also made 102 in his final Test innings against South Africa.
The other two batsmen to have reached the feat are the Australian duo of Bill Ponsford and Greg Chappell. Ponsford recorded a 110 on his debut against England at Sydney in 1924, while his last Test which like Cook and Duff came at The Oval. Ponsford scored a mammoth 266 in the first inning of his final match.
Meanwhile, Chappell smashed 108 against England in his first Test at Perth in 1970, while his final match, which was his 87th Test came against Pakistan in January 1984. Chappell made a 182 in the final innings of his glittering career.
100 in the final innings could not have happened to a more deserving batsman. ??????#AlastairCook

— Sanjay Manjrekar (@sanjaymanjrekar) September 10, 2018

Cook in his final match also broke few other records. One of which was overtaking Kumar Sangakkara (12400) to be the highest-scoring left-handed international batsmen. He is fifth in the list of the highest run scorers only behind Sachin Tendulkar, Ricky Ponting, Jacques Kallis, and Rahul Dravid.
The England opening batsman has also scored 13 hundred in the third innings of a Test match, the most by a player in the third innings.
A century in your last innings. And an ovation that looked like it would never end. It was, as Joe Root said, "written in the stars". What a moment for the mighty Alastair Cook.

— Harsha Bhogle (@bhogleharsha) September 10, 2018

With the century, Cook now has 15 centuries batting in the team's second innings overtaking Sangakkara's 13 hundred in the second essay of his team's batting.
That was a very very special moment … All of us who are privileged to be here today will remember that forever … #Cook #100 … If any person deserves that send off it's Alastair … Fairytales do happen …

— Michael Vaughan (@MichaelVaughan) September 10, 2018

Cook also has seven hundred against India, the most by an England batsman overtaking Kevin Pietersen's six tons, and Ian Botham and Graham Gooch's five centuries.
England currently has taken a lead in excess of 300.
What a way to say goodbye…test ? No 33 for Alastair Cook, richly deserved! #topclass #Congratulations

— Tom Moody (@TomMoodyCricket) September 10, 2018