An open letter to Dr Subramanian Swamy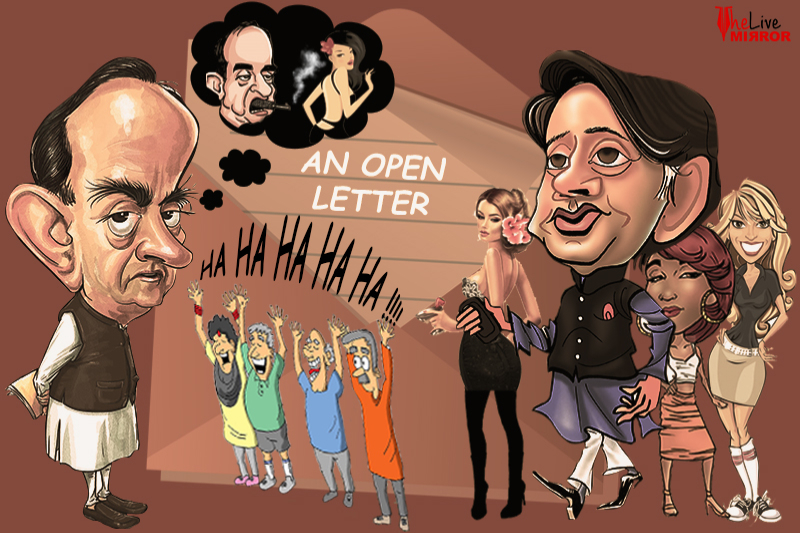 Dear Dr Subramaniam Swamy,
There are two types of terrorism. One is unleashing violence on mankind through ghastly attacks that destroy lives and properties and the second is verbal terrorism. For example if Hafeez Sayeed is a terrorist of the first kind, then you definitely qualify to be of the second kind.
Dr Swamy, it seems you get a sadistic pleasure by defaming and demeaning individuals who are not on your side. Your series of verbal volleys to one of the most erudite and suave politicians Shashi Tharoor neither show you in good light nor you manage to score brownie political points. You being an educated person, it is least expected of you.
Sir, you know better that your credibility is at stake and there's hardly anyone who takes you seriously, especially for the U-turns spanning over decades. Let me remind you that 18 summers ago you wrote a scathing article on Rashtriya Swayamsevak Sangh's (RSS) 'creeping fascism' and then suddenly you turned into an RSS backer. This has only made you redundant in Indian political circles.
Moreover, it compels me to ask you further, who barred you from having girlfriend/s at your prime? Is it because of your lunatics women run away from you? If that's the case, then I sympathise with you. Otherwise I may conclude that you are jealous of someone like Tharoor who have had a lot of female company in his entire life and one cannot do much about it.
By the way, to win on women you could have taken a different path. Like you could have mingled in the Bollywood circles and exhibit your knowledge on Economics, of which you are a stalwart. This would have helped you keeping your frustrations under check and would have saved you and the party you represent, the blushes.
Also, your hobnobbing with former Prime Ministers Rajiv Gandhi, PV Narsimha Rao and Chandrasekhar had been well documented but then you again switched allegiance and became a Narendra Modi acolyte for a Rajya Sabha berth. Being a famed Harvard alumnus, you predicted that rupee would be much stronger vis-à-vis dollar under BJP government, which fell flat even after four years under current regime.
It's another matter that you try your best to prove your mental instability every now and then. Yes by virtue of these shenanigans, you definitely become a talking point, but only to be ridiculed. If you are trying to be in the news with these motormouth comments, then let me tell you that you may get a few headlines, but at the expense of your reputation.
With due respect to your education and knowledge, it pains me no end that you have made yourself a laughing stock not only in political circles, but among the 140 crore Indians. As an Indian, I am as much proud to have a leader in you (in a political party where there's serious dearth of intellect) as much as I am ashamed to have followed you and your shenanigans. I take this in stride as this is the flipside of my profession.
Sir, the kind of education you have, you could have become much more successful in academic field rather than politics. Frankly speaking, politics is not your cup of tea. I am undecided whether you have degraded politics or politics has brought you here. Please let me know if you have a definite answer on this.
Last but not the least, It would be highly appreciable if you could reply to this succinct missive or else I would think that my words of stupidity have fallen on deaf ears. After all in India we are more inspired by stupidity rather than wisdom and that's where a journalist like me thrives on.
Love and regards,
The Live Mirror Team
Also read: Shashi Tharoor: Take action against anti-national, anti-Indian elements
Also read: Sunanda Pushkar death case: Relief for Tharoor as court grants anticipatory bail