Taylor Swift mother Andrea recorded her post-surgery video and taylor breaksdown
Taylor Swift broke down looking at her post-surgery video created by Andrea as she looks at it.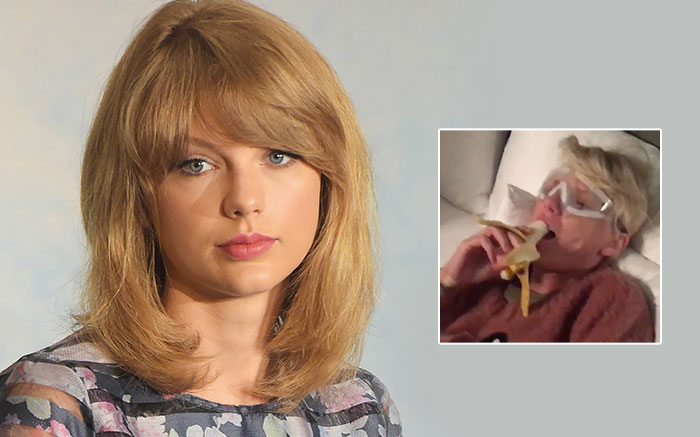 The sensational singer Taylor Swift nearly broke down after seeing the video of her post-surgery made by Andrea. The video showed Taylor Swift funnily behaving post her surgery after she had returned home. She had gone through a laser eye surgery.
Hilarious enough to say, but Taylor Swift had a meltdown over a banana after having laser eye surgery. Sounds insane, right. However, that was exactly the way it had happened. After returning home, the actress did some humorous behavior right after her procedure and this was all recorded by her mother Andrea that now everyone is able to watch.
But the most exciting yet amusing part was that the singer was unaware of the fact that when she would appear on 3rd October of The Tonight Show Starring Jimmy Fallon, he would make the video available to millions of her fans.
As soon as Taylor Swift made herself comfortable on the seat, Jimmy Fallon announced that he had managed to get the video and was ready to make it on air for all others, millions of her fans to see it on TV. At once, she jolted but made herself ready as he hit play.
Here, in the video Taylor Swift panics over a banana that she broke it off from the bunch of bananas which she had not intended to take. This is the exact moment when her mother make her understand saying she can eat other banana.
In another scene of the video we can see her munching on her snack in bed where her mom reminds her not to fall asleep while chewing the snack.
.@taylorswift13 reacts to a never-before-seen post-surgery clip. More with @taylorswift13 on #FallonTonight! pic.twitter.com/gIGst8cLeU

— Fallon Tonight (@FallonTonight) October 3, 2019
In the show though Taylor said unbelievably, "Oh my God. That's on television."
Also Read: Taylor Swift Releases Her Latest Music Video Tilted, Me! – Watch Video