Apple Event 2019: How to Watch Live Stream, Expected Specifications, and More
Apple Event 2019: Apple September Event 2019 India Date and Time and more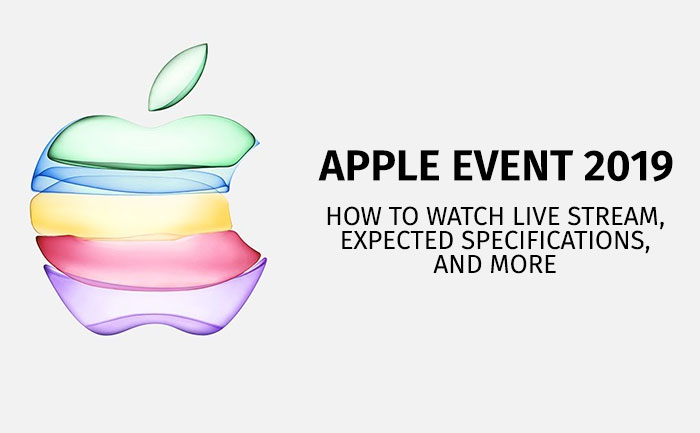 Get set for the mega event of the year that is being awaited by fans across the globe. Yes, It is that time of the year again and Apple is all set for its mega event that will be held at the Steve Jobs Theatre. It is an Apple's spaceship-like auditorium overlooking its out-of-this-world Apple Park campus in Cupertino.
The event will showcase all the latest gadgets that the company has to offer for the coming year. Though Apple has tried to maintain a secrecy over its revelation. But they have not been able to hold the suspense, with most of the leaks and rumours preceding these events.
 As per rumours, Apple is going to unveil its next-gen iPhones at an event in Cupertino today ie 10 September. For people in India, the event will begin tomorrow at 10.30 pm IST.
When & Where to Watch the Event?
This year Apple has decided to showcase the event at its YouTube Channel. Unlike last year where they insisted on providing a live stream only on its Safari browser or on Microsoft Browser.  It will also be available at apple.com/apple-events.
You can also catch the action on Apple's official Twitter account as well, something that was introduced only last year. All you need to do here is like the Apple Event tweet, which is also pinned at the top of the page, to get reminders and updates about the event.
It's coming soon. Tap ❤️ below to get reminders and news around the #AppleEvent. Watch it live on September 10 at 10 a.m. PDT on https://t.co/yLa2e4Xr2R pic.twitter.com/Pq6OFGH88p

— Apple (@Apple) September 4, 2019
Chrome and Firefox will also be able to live stream the event.
What is expected?
Expected is an upgrade on iPhone 11 Pro, iPhone 11 max and the iPhone 11 that was launched last year. Apple will also have a three-camera setup on the top-end version on offer this year. Furthermore, the pre-orders for the iPhone 11 models would start from September 13, with their availability is speculated for September 20.
iPhone 11, iPhone 11 Pro, iPhone 11 Pro Max will debut with iOS 13 and is expected to have the A13 chip. A Geekbench listing has suggested that the chip will be paired with 4GB of RAM. The Pro models in the iPhone 11 family could also have a multi-angle Face ID sensor.
Apple would replace its dated 3D Touch technology with Haptic Touch, which is already available on the iPhone XR.
In addition to the iPhone 11, iPhone 11 Pro, and iPhone 11 Pro Max, Apple is speculated to launch its new Apple Watch. They will be called the Apple Watch Series 5. A rumour has suggested that Apple could be adding a Sleep tracking feature to the device. New strap colours are also expected.
In the software department, they would release the final build of iOS 13 and iPadOS for all the compatible iPhone models and iPad models, respectively.
Many are also expecting the focus of the keynote to be on Apple TV Plus services this time. Apple has reportedly invested a billion dollars for new content and streaming service, and this will be a direct take on Amazon, Netflix and Hulu.
Also Read:  Apple Event Live stream Link, Event Starts Today At 10.30PM