CM Arvind Kejriwal launches doorstep delivery of public services in Delhi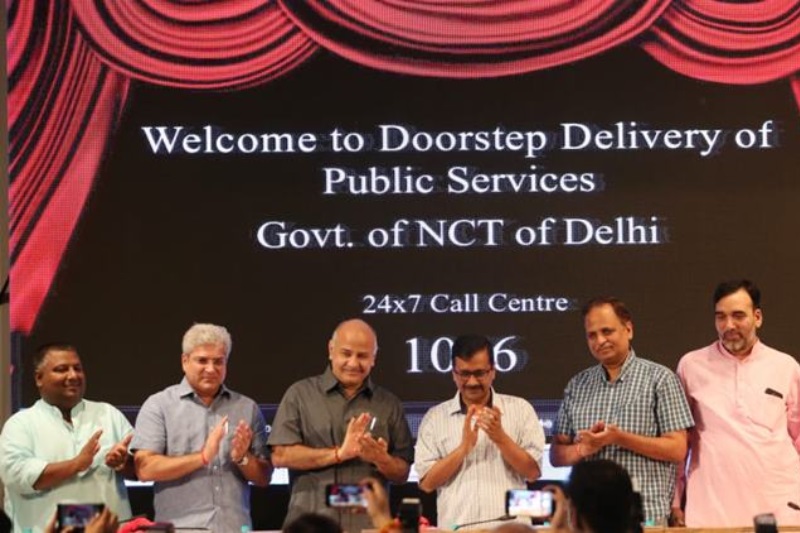 The Delhi government launched the doorstep delivery of nearly 40 public services for the people of Delhi.  Under this scheme, documents such as ration cards and income, caste and marriage certificates will be delivered at your doorsteps.  Chief Minster Arvind Kejriwal called this scheme a "revolutionary, historic step" and tweeted, "We always heard of pizza being home-delivered, but now one can dial the government and the government will come home."
For a certificate, passport help or any other service, citizens can dial 1076 and make a request. They will be informed of the documents they need, and can give a time between 8 am to 10 pm to the "Mobile Sahayak" who can come and collect the documents.  The services will be provided at a minimal fee of Rs 50.
Arvind Kejriwal also urged the media to bring forth the problems in the implementation of the schemes so that he can enable his government to resolve them in the next 10-15 days.
Passport help, caste certificates, income certificates, driving licence, ration card, domicile and duplicate registration papers – all can be home-delivered from now.
For example, if a person wants a driving licence, he/she has to call a designated call centre and give the details.  The agency would assign a 'Mobile Sahayak' to visit the person and collect the required details and documents. The applicant has to make just one visit to the Motor Licensing Office (MLO) for a driving test for which the government has enlisted a private company, VFS Global, to facilitate the services.
Deputy Chief Minister Manish Sisodia, in November 2017, had said that Mobile Sahayak would be equipped with biometric devices and a camera.
After this, Congress accused the AAP government of rushing into the scheme ahead of the 2019 national election. NDTV quoted the spokesperson of the Delhi Congress, Puja Bahri saying, "Of the 40 services, 35 are already online, so why not improve those? Also, does the private company come under the RTI or is it accountable to the people in any way?"