Ashton Kutcher and Mila Kunis are all smiles as they walk hand-in-hand
Ashton Kutcher and Mila Kunis were seen taking a stroll holding each other hands.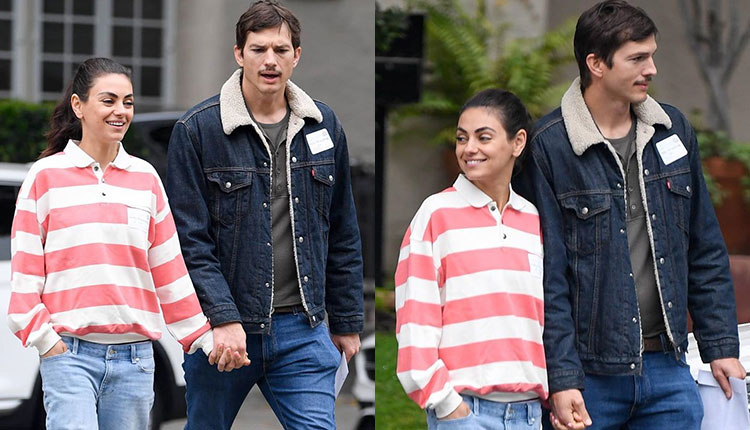 Mila Kunis and Ashton Kutcher are one of the hottest couples. They are often spotted together in events, parties and other occasions. On Wednesday, the couple was seen taking a stroll holding each other hands in LA. Mila was seen in a red striped T-shirt with a pair of blue jeans while the No Strings Attached actor was in a black tee, blue pair of jeans and a denim jacket. He sported a thin moustache.
The couple got hitched in 2015 and they have a daughter Wyatt who was born in 2014, and son Dimitri, born in 2016. In the picture, both are seen having a great time as they are all smiles.
Recently, Ashton's name was mentioned by prosecutors as one of the witnesses among 250 in the case against a serial killer Michael Gargiulo, who is accused to have murdered two California women and a Chicago teen. Among the victims, the name of Ashley Ellerin, a 22-year-old model and student also includes. Ashton dated her in 2001.
Kutcher was supposed to take Ashley to a Grammy's bash but when he arrived at her apartment, he got no answer. She was stabbed 47 times as per the officials. The case has been going on for years now.
Mila and Ashton have been with each other in both good and bad times. Earlier she told E! News, "I have the world's greatest husband. I swear, I got very lucky, man."
For more such news, stay tuned to our space.
Also Read: Brad Pitt Speaks Up On Rumours Of Him Dating Jennifer Aniston