Avengers: Endgame to Re-Release in India on this Date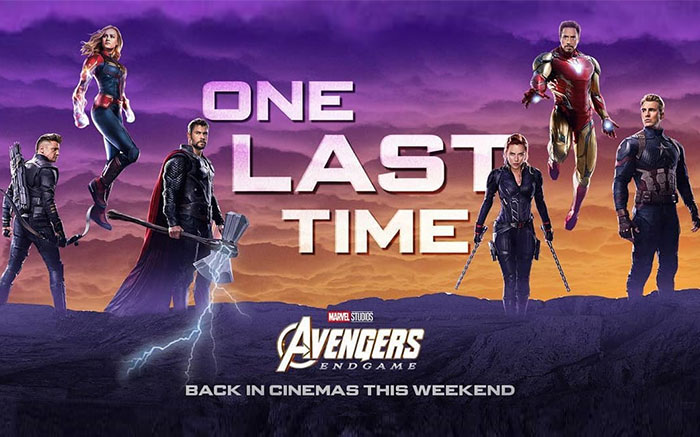 Marvel Cinematic Universe much loved film Avengers: Endgame has been on a spree since its release. The super-hero drama is re-releasing with several minutes of additional post-credits footage. These were not part of the film's original theatrical version that released in April. It will only be available in English. The good news is that the movie is all set to release in India this weekend in selected screens.
Trade Analyst Taran Adarsh tweeted,
IT'S OFFICIAL… #AvengersEndgame *extended version* is all set to re-release in limited screens this weekend in #India. pic.twitter.com/OCuNhdNnjw

— taran adarsh (@taran_adarsh) July 4, 2019
Taran has also shared the new poster of the movie.
The re-release of the gigantic Marvel Cinematic Universe film comes a week after it returned to cinemas in the US.The new version has a Stan Lee tribute, an unfinished deleted scene featuring the Hulk (Mark Ruffalo), and the opening scene from Spider-Man: Far From Home.
The India re-release of Avengers: Endgame includes seven theatres in New Delhi, five in Bengaluru, three locations in Mumbai, Chennai, and Hyderabad, and one apiece in Ahmedabad, and Kolkata. Participating cinema chains include PVR Cinemas, Cinépolis, and INOX among others. Most theatres are opting for a 2D re-release for Endgame, which allows them to run it in a smaller screen, while very few are offering a 3D or 4DX option. Even the show timings are generally restricted to the last late-night slot.
Avengers: Endgame's international re-release hasn't been received well by fans. Many were left disappointed with it. Let us see what will be the Indian Fans response to the revised version.
Also Read: Marvel's Avengers: Endgame re-release extra footage revealed