Bhuvan Bam Starts Shooting For His First Film 'Dhindora'
Youtuber Bhuvan Bam has started the shooting for his upcoming film titled 'Dhindora.'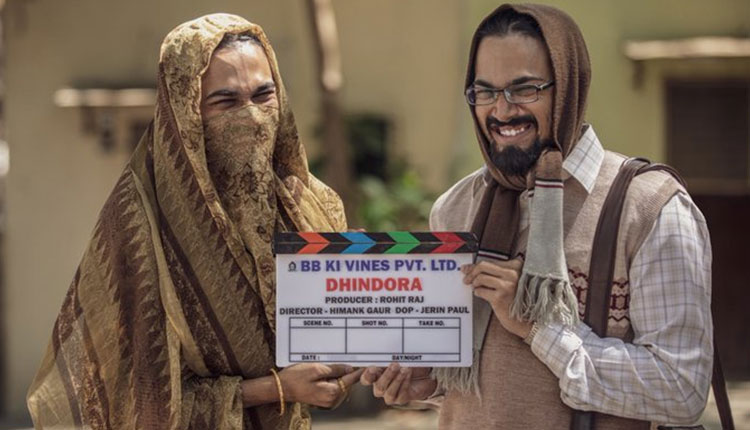 Bhuvan Bam is one of the most popular YouTubers in India. He is regarded as the most influential young stars in today's world. Bhuvan Bam is known for uploading vines on his YouTube channel, 'BB Ki Vines', which currently has 16.2 million subscribers.
The YouTube sensation Bhuvan Bam became the first Indian individual YouTube content creator to cross 10 million subscribers. He is the Director of 'BB Ki Vines' Private Limited and a Designated partner at AMB Youthiapa LLP, the company behind his channel merchandise.
Recently, Bhuvan took to his social media handles to announce his upcoming project. He captioned,"Starting a new chapter of my life. Never imagined that one tiny idea will lead to this. Our baby characters are forming a universe of their own.? Har jagah 'Dhindora' peet do! ?‼️ Shoot begins today.?? #Dhindora #BBKiVinesProductions #bhuvanbam
@rohitonweb @arvin.bhandari @tusharmahajanofficial @abbasdalal @hussain.dalal @desipandamusic @himankgaur @jerinpdp @yours_truly_shantanu @varung0707″
Here's the post:
Looking at the photo above, it seems like Bhuvan's film, Dhindora will be an expansion of his many popular characters. Bhuvan Bam's first film Dhindora is directed by Himank Gaur and produced by Rohit Raj.
Bhuvan Bam has earlier featured in Jyoti Kapoor Das' short film 'Plus Minus.' He has also begun his own chat show called 'Titu Talks' which he has described as a sasta version of Karan Johar's Koffee With Karan.
For the unknown, the YouTuber has been acknowledged with several accolades. He has won the 2016 Most Popular Channel on YouTube on WebTVAsia awards. He has also won the Entertainer of the Year at Official Instagram Awards and Global Entertainer of the Year at World Bloggers Awards in 2019.
Well, are you looking forward to Bhuvan Bam's upcoming film? Let us know in the comments section down below.