Coronavirus vaccine test opens as US volunteer gets 1st shot
Coronavirus vaccine test opens as United States volunteer gets first shot ...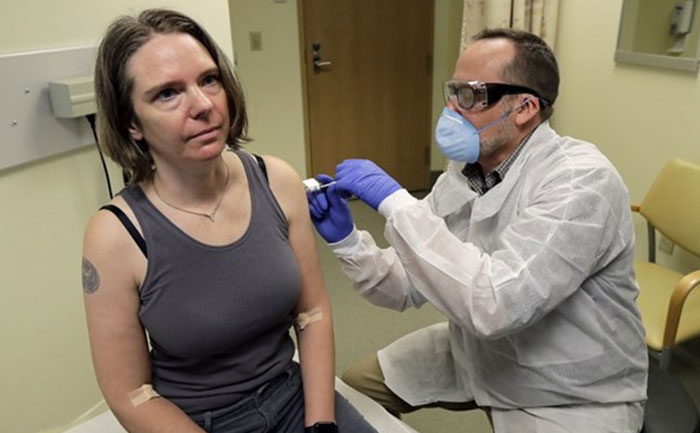 United States researchers have started testing an experimental coronavirus vaccine, The CUS researchers gave the first shot in a healthy volunteer's arm. Scientists at the Kaiser Permanente Washington Research Institute in Seattle started anxiously awaiting the first-stage study of a potential COVID-19 vaccine. The vaccine was developed in record time after the new virus that originated from China and fanned across the globe.
The main goal of the first set of tests is to find out if the vaccine is safe. If it is, then later studies will determine how well it works. Despite the rapid progress, even if the vaccine is proved safe and effective against the virus, it will not be available for at least a year.
The Associated Press news agency watched as the study's first participant, an operations manager at a small tech company, received the injection inside an exam room. The test will give 45 volunteers two doses, a month apart.
As reported by the NY Times, The vaccine is code-named mRNA-1273, it was developed by the NIH and Massachusetts-based biotechnology company Moderna Inc. Moderna is the first to reach a clinical trial. The trial will enroll 45 healthy adults ages 18 to 55. Each will receive two shots, 28 days apart.
The report further adds, Three different doses will be tested each in 15 people and the participants will be studied to determine whether the vaccine is safe and whether it stimulates the immune system to make antibodies that can stop the virus from replicating and prevent the illness it causes. Participants will be paid $100 for each clinic visit in the study.
Four participants were vaccinated on Monday, and four more are to get shots on Tuesday. Then there will be a pause to monitor them before more participants receive injections.
It's not the only potential vaccine in the pipeline. Dozens of research groups around the world are racing to create a vaccine against COVID-19. Another vaccine is being made by Inovio Pharmaceuticals. It is expected to begin its own safety study in the US, China, and South Korea next month.
Also Read: Coronavirus Outbreak: Rashami Desai gets screened on the sets of 'Naagin 4'