The 'Big Bang Theory' Finale Had a Higher Viewership than 'Game Of Thrones'
'Big Bang Theory' finale tops 'GOT 8' finale with galactic ratings victory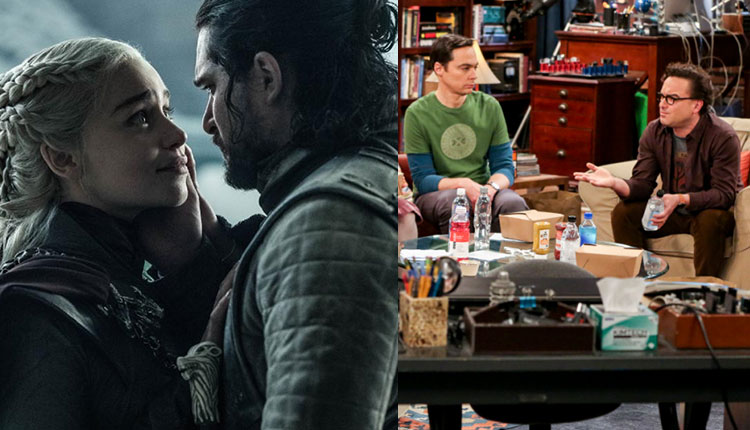 This week fans of popular shows Game Of Thrones 8 and The Big Bang Theory have said our final goodbyes. But the question that remains topmost on the mind's of the fans is who won the crown of the most viewed. Well, let us reveal that the finale of Big Bang Theory has toppled Game Of Thrones season 8 finale's viewership.
Over the past couple of weeks, the two series have gone head-to-head in a battle for the most ratings. But the finale has come up in favour of Big Bang.
It all ended with a Big Bang. ❤️ pic.twitter.com/QQ7T4A0EKV

— The Big Bang Theory (@bigbangtheory) May 17, 2019
Yes, 'The Big Bang Theory' finale has toppled the much popular television show Game Of Thrones season 8 finale's viewership. It has topped the TV ratings with back-to-back, the two-episode finale of the nerdy CBS comedy's 12-season run drew 18.5 million live viewers on Thursday night. The finale of 'Game of Thrones' was a distant second with 13.6 million live viewers.
The finale of GOT 8 was one of the most watched even though it left its die-hard fans disappointed. But 'Big Bang' won over it with a colossal rating. It was a winner that helped keep CBS the top network for much of its record run of 279 episodes, the most ever for a multi-camera series.
The Thursday night's hour-long finale saw the show's group of geeky misfits take one last trip together to support married couple Sheldon (Jim Parsons) and Amy (Mayim Bialik) after they won the Nobel Prize in physics.
That two-hour "Big Bang" block helped give CBS six of the top 10 shows and an easy win of the week in primetime with an average of 6.5 million viewers.
Also Read: Game Of Thrones 8 Quiz: How well you remember Episode 5