Bigg Boss 13: Twitter supports Rashami Desai and calls Mahira Sharma 'ehsaan faramosh'
In the latest episode, Mahira Sharma chooses Vishal Singh over Rashami Desai and Twitter fans extent support to Desai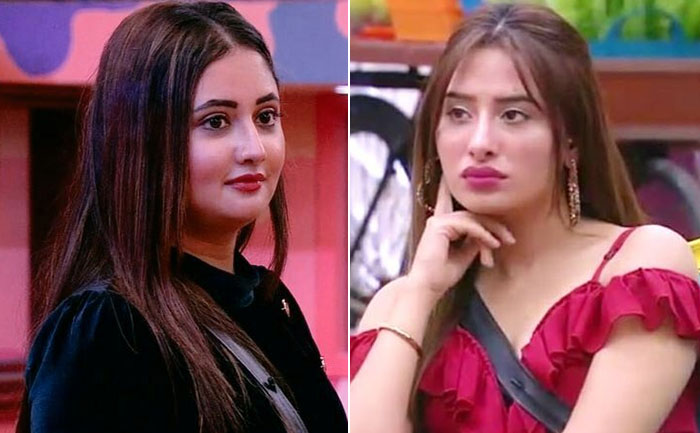 As we all know Mondays' are meant for nominations day in the Bigg Boss house and as always Bigg Boss added a twist wherein each contestant was asked to name a contestant, who they want to save from nominations.
Most of the contestants chose the members of their clan to save them from the elimination. Whereas Mahira Sharma betrayed her own group and instead of taking Rashami or Devoleena's name, Mahira chose the new card entrant Vishal Aditya Singh. Rashami was seen disturbed and hurt by Mahira's disloyalty toward's her own team. Later, Rashami was seen telling Devoleena that she will now play her own game.
.@TheRashamiDesai aur @Devoleena_23 ko bura laga kyunki #ParasChhabra aur #MahiraSharma ne nahi kiya unhe save!@Vivo_India @BeingSalmanKhan #BiggBoss13 #BB13 pic.twitter.com/HGzrMitcFy

— COLORS (@ColorsTV) November 18, 2019
Bigg Boss 13 Weekend Ka Waar  saw the actor and Rashmi's rumored boyfriend Arhaan Khan's eviction and all his friends in the BB13 house got quite emotional,  especially his friend Rashami Desai and now it is only Devoleena who is beside her in the house.
Not only Rashami but her fans outside the house were quite disheartened as all her friends have gone away from her. Desai's Twitter fans have started a new hashtag on Twitter which currently trending #WeLoveRashamiDesai, to extend their sheer support for the Dil Se Dil Tak actress and some fans also called Mahira 'ehsaan faramosh'
Check out some tweets from Rashami's fans here:
She is best honest and real person stop showing her or taking her wrong negative u r fan of her or not all want to see her accept it or not @TheRashamiDesai
We Love Rashami Desai#StayStrongRashamiDesai #WeLoveRashamiDesai #BB13 #BiggBos13 #RashmiDesai https://t.co/IwPceRM5kQ

— Vee WoRld DeepVeeR (@veeworldranveer) November 18, 2019
Mahira Sharma is biggest Ehsan faramosh of the year really yar Rashmi k GRP me hone k Karan isko bacha rahe the isko vote bhi Kiya she is so irritating ….#WeLoveRashamiDesai

— Poo (@Poo71676599) November 17, 2019
What comes easily won't last long and what last long will not be easier.

Be strong and win#weloverashamidesai @BB13Official@ColorsTV @justvoot

— Komal (@Komal70331725) November 18, 2019
I hope Rashami Desai got the message from today's nominations that paras and Mahira are just feeding on Rashami and Devoleena like parasites. They will never support them. Leave Paras Gang and start playing independent game. We Love Rashami Desai #BiggBos13 #WeLoveRashamiDesai

— Abhishek Srivastava (@Abhi90302268) November 18, 2019
Be strong.. Be furious
????#weloverashamidesai

— sasmita sahoo (@Sssmita_behappy) November 18, 2019
Felt bad for Rashmi Desai in tonight's episode. She seems to be all alone. Girl enjoy your journey. Even if you are alone your fans are there with you. #WeLoveRashamiDesai #BiggBoss13

— RanDeep (@randeep394) November 18, 2019
Do you think Mahira made the right choice by selecting Vishal over Rashami? Do let us know in the comment section below.
ALSO READ: Bigg Boss 13: Mahira Sharma's Mother Lashes Out At Hindustani Bhau