Watch: Delhi BJP Leader Azad Singh slaps wife an ex-mayor at party Office
BJP leader Azad Singh slaps wife outside party office in Delhi, Manoj Tiwari takes action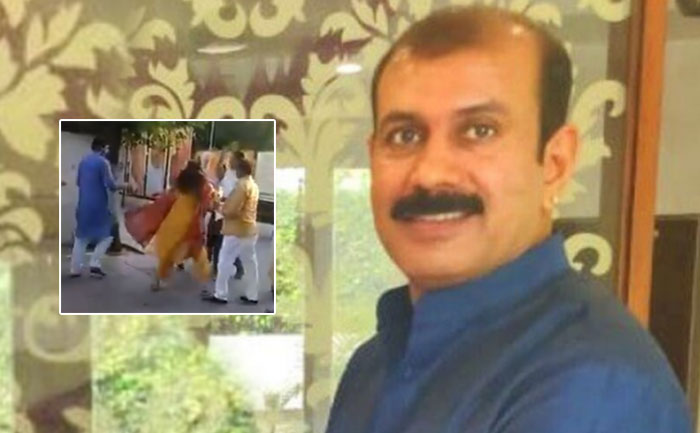 A shocking incident came to light when a BJP leader was caught on camera slapping his wife outside party headquarters. The viral video is trending on social media with many slamming the minister for his action. Bharatiya Janata Party's Mehrauli district chief Azad Singh slapped his wife, an ex-South Delhi mayor at the party's Delhi office. This incident took place after a poll preparedness meeting with senior leader Prakash Javadekar.
Watch the viral video here:
.@BJP4Delhi leader Azad singh slaps his wife inside Delhi BJP HQ, complaint registered. @ManojTiwariMP @RSSorg @geetv79 @priyankagandhi pic.twitter.com/wM3mou3PmC

— Simran Kaur (@simran100kaur1) September 19, 2019
Soon after the incident, Delhi BJP president Manoj Tiwari had Singh was removed from his post of Mehrauli district president. A committee was also formed to probe into the incident. Another leader, Vikas Tanwar, was appointed as working president of the district.
Party general secretary Rajesh Bhatia said. "Singh had a dispute with his wife and former South Delhi mayor Sarita Chaudhary. He indulged in a fight with her. Javadekar was present in the party office at the time of the incident.
The fight broke out as soon as they came out of the meeting called by Javadekar, who is in-charge of Delhi BJP for Assembly polls, at the party office on Pant Marg."
Azad Singh in his defence said. "I have filed for divorce from my wife. She first abused me and attacked me so I pushed her in self-defence."
A Delhi Police officer speaking to PTI has revealed that they have not received any complaint from anyone involved. But they will take action if a complaint is given to them.
Also Read: Malala Yousafzai urges UN to help Kashmiris, BJP MP asks her to raise voice for Pak minorities