BTS Jimin's 'Filter' Becomes The Most Streamed Korean Solo On YouTube Music
BTS's JIMIN's FILTER has already been streamed 16 million times on YouTube music becoming the only Korean solo song to achieve this feat
BTS member JIMIN — who already has plenty of records on his name — seems to have charted yet another milestone with his solo track, FILTER. Yes, JIMIN's solo on their latest album, Map of the Soul: 7 has become the most-streamed Korean Solo song on YouTube music.
According to reports, BTS's JIMIN's FILTER has already been streamed 16 million times on YouTube music becoming the only Korean solo song to achieve this feat. Prior to this achievement, FILTER has already had various records and feats.
You can check out previous records of BTS member JIMIN's Filter track:
Fastest song for a Korean solo artist to hit 10 million and 20 million streams on Spotify.
First and only Korean artist to have a song on 3 major countries' music charts at the same time (U.S., United Kingdom, and Canada).
Highest charting song after the title track in the Worldwide iTunes Chart.
Highest charting song after the title track in all of Korea's streaming platforms (Melon, Genie, FLO, Bugs, Sorbida).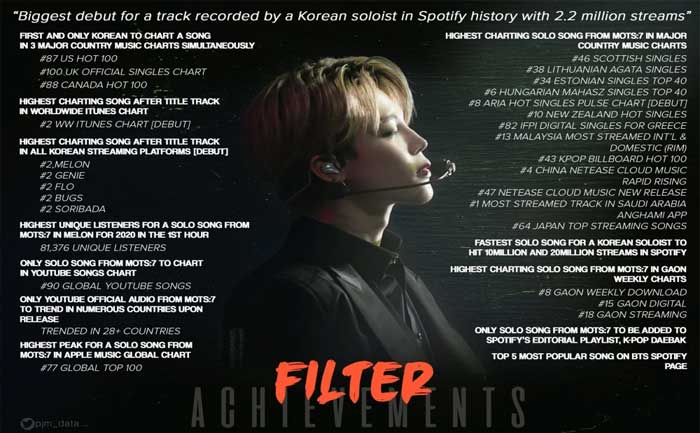 In an interview with Spotify, JIMIN had revealed that he "is the one who came up with the concept" for his super catchy solo, "Filter", featured as the 8th track on the group's new album Map of the Soul: 7.
JIMIN claimed that "Filter" sheds light on how he, as a performer, "[wants] to present [himself] to the world in many different ways."
Ever since FILTER dropped, BTS ARMY is actually swooning over the amazing lyrics that Jimin sings in the track. Jimin's "Filter" has the fans feeling thirsty AF, because he really takes a stab at ARMYs' hopes and desires with some daring lyrics."
Source: Koreaboo.com