9 Hilarious moments when BTS members Jin and Suga showed they're the perfect duo
Here's why BTS's Jin and Suga are the perfect comedic duo.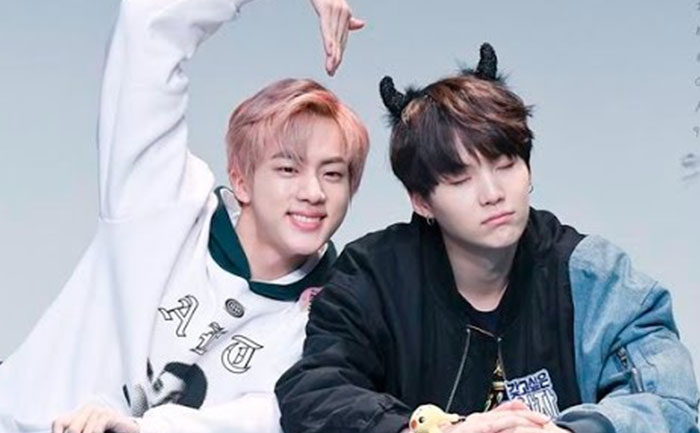 The K-Pop band BTS has become global superstars, with thousands of fan covers of their songs. Currently, BTS is on a high ever since their latest album Map Of the Soul: 7 went on to dominate album charts in the top five largest music markets in the world.
In this article, we will be talking about BTS members Jin and Suga's connection. BTS's Suga and Jin have always proved that their friendship is the real deal by hanging out together during their time off!
Also Read | Here's How Each BTS Member Responded To "Will You Marry Me?"
Last year, during BTS's official vacation, the duo Jin and Suga took to the BTS's official Twitter account and revealed that they had taken a fun fishing trip together, with Jin showing off some of his catch in their photos.
Not only that, but we have also often noticed that the two bandmates have similar facial expressions when faced the same situation.
Find out why BTS's Kim Seok-jin aka Jin aka and Min Yoon-gi aka Suga are the perfect comedic duo.
1. Partner-in-crime
Seokjin Yoongi
?
Partners in crime to win every RUN BTS episode#진 #석진 #김석진 #JIN #Seokjin #KimSeokjin #Yoongi @BTS_twt pic.twitter.com/2vhYY4O40l

— RJrockjin⁷ ☾ Moon ♡ (@RJrockjin) October 18, 2019
2. When Jin fooled Yoongi by feeding him a shell
Jin fed Suga shell and Suga's reaction after eating it was priceless.
3. Suga telling Jin, "Be quiet so I can focus!"
Even though all Suga wanted to do was to cheer for Jin, Mr. Worldwide Handsome still had to shut him up. The rest of the group couldn't help but laugh.
4. Best-roommate award:
Throwback when Yoongi and Jin won the best roommate award.
2017 최고의 룸메이트 SIN pic.twitter.com/uvd8Vmg0Yy

— ??⁷ (@silvervoicejjin) January 13, 2020
5. Which one is the elder one here? Can you figure?
This video depicts that it hards to notice which is the elder one here. These two are always hilarious whenever around each other and here's a proof of it.
Suga : model rocking the runway appearing so handsome and hot
Meanwhile
Jin : being his CRACKHEAD self while Jamming to Idol on their way to perform
I CANT WITH THEM @BTS_twt ?? pic.twitter.com/mnnfKzmTN3

— Farah ⁷? ☻ ᴷᵀᴴ ¹ ᵎᵎ ( semi ia ) (@CosmosOfJoyHope) March 21, 2020
6. When Suga planned to bully Jin
When Suga left him out of his list of favourite things but RM came to the rescue.
Q: List 7 favorite things
?: RM! J-Hope! Jungkook! Jimin! V! Holly! Suga!
?: Where's Jin?
?: Holly replaced him!
?: That's right, cause Jin's (a) holy (person).

Seriously Kim Namjoon??? ??#namjinpic.twitter.com/aYE3rY5G34

— loveless⁷ (hey nanana) (@whaliennokore) March 7, 2020
7. Suga's reaction to Jin's jokes
One of the main reason, Jin cracks up 'Dad jokes' is because Yoongi gets annoyed with it. Suga even says that he's angry but maybe he is enjoying it too deep down.
8. Two types of reaction
Well, these two always have the opposite yet funny reactions to situations. Throwback when the band performed but there were empty seats in the front row although the staff was cheering the, up.
bts performed their encore stage infront of empty seats with few staffs cheering them on

Yoongi: Ah it was kinda embarrassing
JIN: I was so happy bc for today as many as 4 people were cheering us !#방탄소년단진 #방탄소년단슈가 @BTS_twt #JIN #SUGA pic.twitter.com/oBwPejGwRs

— ㅈㄱㅋ? (@tinyseokjinnie) March 1, 2020
9. Well, these two will always crack us up
The video below shows how Jin wanted to remove the confetti from Suga's hair but he is finding it's so ridiculous and you can see him sitting down and giggling about Suga's hair.
Jin want to remove the confetti on Suga's hair but he is finding it's so funny and then he is sit down again and laughing about Suga's hair???#iHeartAwards #BestFanArmy #BTSARMY @BTS_twt pic.twitter.com/iCozkro2qy

— SUGA BASE (@SugaBase_) February 12, 2018
Aren't these two the perfect comedic duo?