BTS: 5 Reasons to Watch K-pop Band on The Tonight Show Starring Jimmy Fallon
K-pop band BTS will be appearing on 'The Tonight Show with Jimmy Fallon' for a special episode.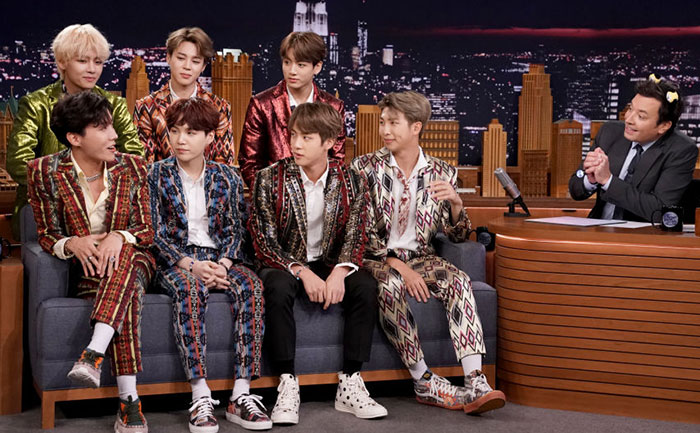 Jimmy Fallon has ramped up the ARMY by announcing that BTS will be returning to the show as guests. The band recently also made an appearance on 'The Late Late Show With James Corden'. This will be the second time BTS will be appearing on NBC's 'The Tonight Show Starring Jimmy Fallon' after their guest appearance on the show in September last year. Jimmy made this announcement on the February 6 broadcast.
Well, as per Twitter user Soo Choi and BTS fan, Jimmy Fallon has pre-recorded the special episode featuring BTS members RM, Jungkook, Jimin, Jin, V, Suga, and J-Hope.
Ahead of BTS' arrival on Jimmy Fallon's show, we present to you 5 reasons why you should watch the K-Pop band on The Tonight Show Starring Jimmy Fallon.
1. Performance
Recently, BTS performed 'Black Swan' on 'The Late Late Show with James Corden' and the internet went insane. Now, we are eager to watch BTS set the stage on fire once again with their charismatic act on Jimmy Fallon's show.
2. Fashion
The members of BTS are undoubtedly one of the most stylish members of the K-pop world. Through special appearances and events, they opt for bold, royal attires that make them stand out in the crowd. We are looking forward to their trendy looks at Jimmy's show.
3. English
Well, as we all know RM is the translator of the group. It is always interesting for us to watch them talk in English. We would love to watch Jimin, Jungkook, V, Suga, and J-Hope speak more in English when Jimmy interrogates them on the show.
4. Jokes
As we all know, each member of BTS has different humor that usually cracks us up. We can definitely not wait for their inside jokes and funny moments.
5. Jimmy and Jimin's friendship
Jimmy Fallon and Jimin usually bond as they practically have the same name. Earlier when the boy band was on Jimmy's show during the interview, all the members of BTS presented themselves one by one, but when it came to Jimin, Fallon couldn't stop himself from jumping into hype him.
"My man, here we go. Come on," Fallon screamed as Jimin was about to introduce himself. Then, Jimin stood up and said, "Hey Jimmy! I'm Jimin!"  
How cute are these two? Well, we are extremely excited to watch their 'bromance'
Will you be watching BTS on 'The Tonight Show Starring Jimmy Fallon'? Let us know in the comments down below.