Jimmy Fallon confirms BTS Will Be Returning To The Tonight Show, #FallonAsksBTS Trends Worldwide
#FallonAsksBTS trended worldwide in wake of Fallon asking fans for questions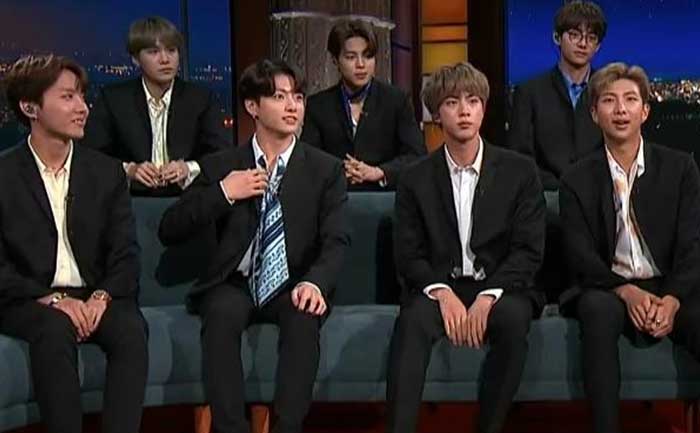 Jimmy Fallon has ramped up the ARMY by announcing that BTS will be returning to the show as guests. The band recently also made an appearance on The Late Late Show With James Corden. This will be the second time BTS will be appearing on NBC's 'The Tonight Show Starring Jimmy Fallon' after their guest appearance on the show in September last year. Jimmy made this announcement on the February 6 broadcast.
Instead of conducting a generic interview, 'The Tonight Show' has decided to turn the tables on the ARMY with Jimmy Fallon asking fans to send in the questions they want BTS to answer. This gave rise to the hashtag #FallonAsksBTS which has been trending worldwide. Fans can still get their questions in by going to Twitter or Instagram to submit their queries. Be sure to add the hashtag #FallonAsksBTS.
The BTS ARMY is reacting to the announcement by Fallon with a wide variety of questions. Here are some of the questions that the BTS ARMY has suggested to Jimmy Fallon.
So….where was Yoongi? 😅 #FallonAsksBTS pic.twitter.com/jj2IoWVvAr

— bora⁷ 🍇🍀 (@modooborahae) February 7, 2020
may i know what did jungkook send to hobi.. #FallonAsksBTS pic.twitter.com/1VGgIYPIzY

— jc⁷ (@glossaw) February 7, 2020
What is the story of the Black Bean incident, the one Jimin and Namjoon mentioned on a vlive?!! #FallonAsksBTS @FallonTonight pic.twitter.com/G8fAPfXLJY

— Honey ⁷ (@saraddng) February 7, 2020
namjoon, did jimin ever replace the daanpatbbang he stole from you? #FallonAsksBTS pic.twitter.com/0wi3bOldcH

— 𝚝𝚊𝚗𝚢⁷♡ (@stjiminent) February 7, 2020
Fans also had questions about BTS's appearance on The Late Late Show With James Cordon.
Jungkook, how did you feel when you saw Namjoon betray your hiding place? be honest #FallonAsksBTS pic.twitter.com/nqVUq4AtF4

— —##☻ 𝗿𝗲𝗹𝗲 ⁷ !! ! (@rmbynamu) February 7, 2020
BTS has been on quite the roll recently. They became the 1st South Korean Band to perform at The Grammys when they joined Lil Nas X and Billy Ray Cyrus to perform Old Town Road. In addition, they are ready to roll out their album 'Map Of The Soul: 7' which releases on February 21. BTS has promised that the album will exceed the ARMY's expectations.
ALSO READ: BTS ARMY Request K-Pop Group To Hire Translator For 2020 Tour