BTS Perform ON At Grand Central Terminal And Talk About The Black Bean Noodles Incident
BTS discussed the black bean noodle incident with Fallon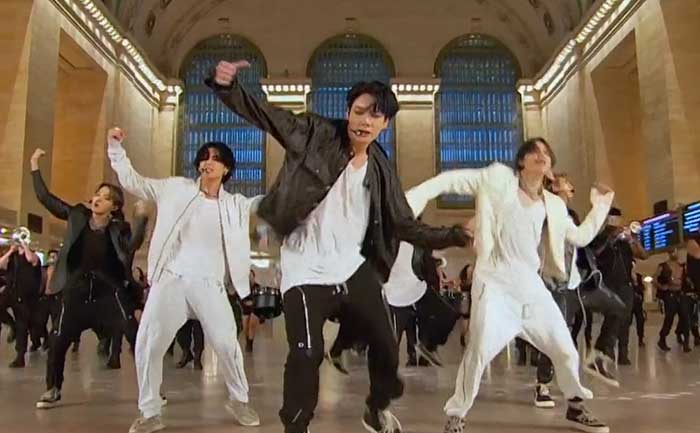 BTS  and The Tonight Show shut down the Grand Central Terminal when BTS performed their lead single ON from the new album Map of the Soul:7. The performance was followed by The Tonight Show's subway special, marking the first time a late-night program did a show on the New York City subway. Moreover, BTS also explained the long-standing mystery of the black bean noodle incident.
Jimmy Fallon heard the voice of the BTS ARMY when he asked the boys about the black bean noodle incident. Previously, a tweet about the incident collected over 16,000 likes. These tweets were a result of Fallon asking the BTS ARMY to send in their question that they wanted to ask BTS. This proved to be an immensely popular move and #FallonAsksBTS trended worldwide as a result.
The boys were happy to indulge the ARMY and answered the question. Turns out the incident was actually RM sneaking off to eat black bean noodle without the other members of BTS.
Jimin said, "It was during our training years. We were taking a short break from practice and he said he was going to the restroom. But he'd actually gone to eat black bean noodles alone. While we were all waiting!"
"I had a stomach ache. I was like, 'Give me noodles as fast as you can.' Swallowed it and boom." RM said. He also added that he was only gone three or four minutes.
In addition, Fallon also asked the boys what they would do if they weren't in a boy band. While RM chose a career as a businessman, V answered with a saxophonist. However, Jimin took Fallon's suggestion to be a talk show host.
"Jimin Fallon," Suga joked.
RM also revealed that he'd love to meet WWE superstar and actor John Cena. It is well known that John Cena is a longtime fan of BTS.
"He's a big fan of us. It's mutual, of course," RM said. "We were always watching WWE when we were like 13."
"I'm going to get you hooked up with John Cena," Fallon promised.
Watch BTS' awesome performance at the Grand Central Terminal:
ALSO READ: BTS Army Donates To Magic Breakfast To Thank James Corden