Camila Cabello Is A Huge Fan Of Game of Thrones, Says It Has Taken Over Her Life
Camila Cabello took to Twitter and wrote that she started watching Game of Thrones three weeks ago and it has taken over her life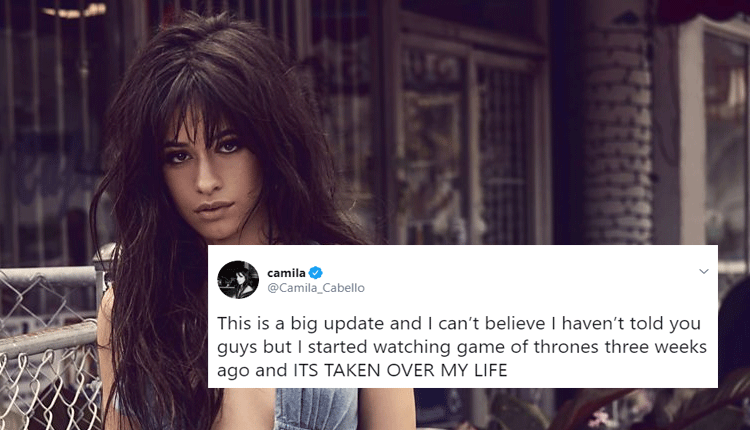 Camila Cabello, Cuban-American singer seems to have fallen in love with American fantasy drama, Game of Thrones. Yes, you read that right, ahead of Game of Thrones' Penultimate episode, Camila Cabello took to Twitter and informed her more than 8 million followers that she can not believe she has not told her fan that she has been watching Game of Thrones from three weeks and it has taken over her life.
Camila Cabello wrote on Twitter: "This is a big update and I can't believe I haven't told you guys but I started watching the game of thrones three weeks ago and ITS TAKEN OVER MY LIFE"
This is a big update and I can't believe I haven't told you guys but I started watching game of thrones three weeks ago and ITS TAKEN OVER MY LIFE

— camila (@Camila_Cabello) May 12, 2019
She became popular as a member of the girl group named Fifth Harmony. The group was formed on The X Factor (U.S.) in 2012, signing a joint record deal with Syco Music and Epic Records. After joining the girl group, she started establishing herself as a solo artist with the release of the collaborations "I Know What You Did Last Summer" with Shawn Mendes, and "Bad Things" with Machine Gun Kelly.
Notably, 'Bag Things" reached number four on the Billboard Hot 100 U.S chart. She reportedly left Fifth Harmony in 2016 and released several other collaborations such as "Hey Ma" with Pitbull and J Balvin for The Fate of the Furious soundtrack.
Cabello's debut solo single titled "Crying in the Club" was released in May 2017, and earned number 47 in the U.S. Refocusing her sound to Latin-influenced music thereafter, her debut studio album Camila (2018) debuted at number one on the Billboard 200 chart, with its lead single "Havana" topping the charts in several countries, including the UK and the U.S.[2] The second single "Never Be the Same" also reached the top 10 in several countries.
The beautiful singer and songwriter, who is known for working tirelessly recently took to Instagram and posted pictures of herself from Italy's vacay. Speaking about her vacation she wrote on Instagram: "I literally feel like I have been born again," she captioned the slideshow below. "Thank you, Rome, for your people, your food, your history, your open air museum that you've let me get lost in. I love being swallowed up by the world and it's cultures, and there's nothing I love more than getting out there, and really living like an artist, not just creating like one."
"Falling in love with foods, cultures, strangers, languages… and realizing there's millions of versions of life and no right way to live it," she continued. "There are a million lives out there and at any moment we can go out there and experience another version. I took a spontaneous trip to my dream place, Italy. I'd always wanted to go but had only been there a day in between promo tour. My soul yearned for some damn fun. Fun that wouldn't contribute to my album, my career, fun that wouldn't be effective or productive or contributing to my goals. Just living. Just being human. Just experiencing the art around me and letting myself feel tiny in it," she added.
"I had the time of my life," she finished. "Thank you Italy 💋💋💋💋💋💋💋💋💋💋💋💋💋💋💋."