Watch: CCTV footage of the trains collision in Hyderabad
Two trains on same track collide at Kacheguda railway station, Hyderabad ; Rescue operations on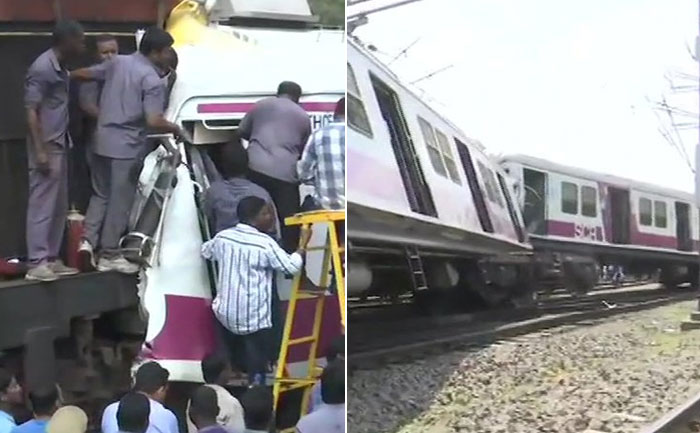 In a fatal accident, two trains collided at the Kacheguda station in Telangana's Hyderabad.  More than ten passengers suffered injuries and were immediately taken to the nearby hospitals. The incident took place when the coaches of Lingampalli-Falaknuma And Kurnool City-Secunderabad Hundry Express derailed after a collision at Kacheguda Railway Station.
Hyderabad: Two trains have collided at Kacheguda Railway Station. Rescue operations underway. #Telangana https://t.co/mQ87UDdGa4 pic.twitter.com/Vmkw2iUTsq

— ANI (@ANI) November 11, 2019
Here is the accident caught on CCTV camera,
CCTV footage of the Mmts train collision in Kachiguda. pic.twitter.com/IMLO9Di53U

— Bala (@naartthigan) November 11, 2019
The video shows the two trains moving towards each other on the same track, before ramming into each other. The impact of the collision was such that it lifted several bogies of the MMTS trains off the tracks.
The MMTS was coming from Lingampally and was headed towards Falaknuma when around 10.30 am it collided with the express train coming from Kurnool which was heading to Secunderabad at Kanchegunda railway station yard. The collision apparently took place due to a fault with the signaling system. Therefore no alerts were sounded when both the trains landed on the same track. But as the trains were traveling at low speed the impact was reduced.
Dozens of people have been injured after 2 trains collided at the #Kacheguda Railway Station in #Hyderabad. An MMTS train slammed into the Kongu express which was waiting at the platform. #accident #TrainAccident #railways#Hyderabadtrainaccident #india #Telangana pic.twitter.com/yLY2vfjku0

— Annu Kaushik (@AnnuKaushik253) November 11, 2019
MMTS train rams into an inter-city train at Kachiguda Railway Station.
many people injured
No casualties so far. 3 coaches of MMTS damaged#Hyderabad #Kachiguda #TrainAccident #mmts pic.twitter.com/98AgInPkA2

— Cine Chit Chat (@CineChitChat) November 11, 2019
No deaths have been reported so far. The injured were shifted to the nearby Osmania General Hospital, from where two people have already been discharged. The authorities are trying to extricate the driver who has been trapped amidst the wreckage.
Also Read: PUBG Train Accident, Two Died On Tracks – Video (DNA Analysis On Game Addiction)