Induction of Chinook Helicopters in Indian Air Force is a "game changer"
Indian Air Force inducts Chinook Helicopters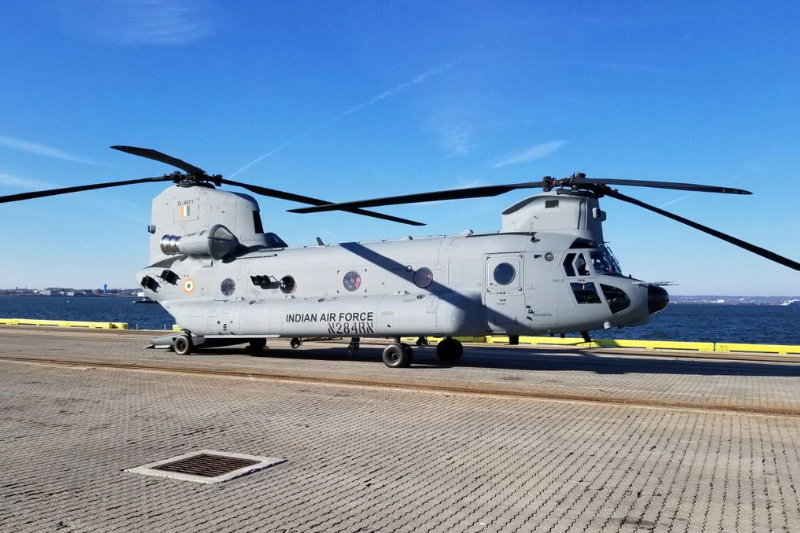 Taking a step ahead, the Indian Air Force (IAF) on Monday inducted four Chinook heavy lift helicopters into its inventory at Air Force Station Chandigarh. Notably, the Chinook helicopters are capable of transporting artillery guns and combat-ready troops to forward and high-altitude areas, especially along India's borders with Pakistan and China.
The addition of heavy-lift CH 47 F(I) helicopter is a significant step towards modernisation of Indian Air Force's helicopter fleet. The helicopter has been customized to suit IAF's future requirements and capability roadmap. The helicopter has a fully integrated digital cockpit management system, advanced cargo handling capabilities and electronic warfare suite that complement the aircraft's performance. The helicopter is capable of airlifting diverse military and non-military loads into remote locations.
Speaking on the occasion, IAF chief B.S. Dhanoa said, "The helicopters are a national asset and a game changer for the IAF." "Given its all-weather and day-and-night operation capabilities, the Chinooks would redefine the IAF's heli-lift capacity," Dhanoa added.
"Our country faces a multitude of security challenges. We require vertical lift capability across a very diversified terrain—places from the sea level to high-altitude landing grounds. We have procured the Chinooks with India-specific enhancements to increase the flexibility of the platform across the entire spectrum of heavy-lift operations, including search and rescue and air ambulance roles," he concluded.
Importantly, India and the US signed a government-to-government deal in September 2015 for 15 Chinooks with an option of buying seven more platforms. The Chinook is considered one of the most modern heavy-lift choppers in the world. It can carry goods and cargo of up to 10 tonnes, including men and machines, such as heavy machinery, artillery guns and even light armoured vehicles, to high altitudes.
Also Read: Cheap & Costly Switch – Nintendo Rumored To Be Working On Two New Version