Cops fire on anti-sterlite protesters in Tuticorin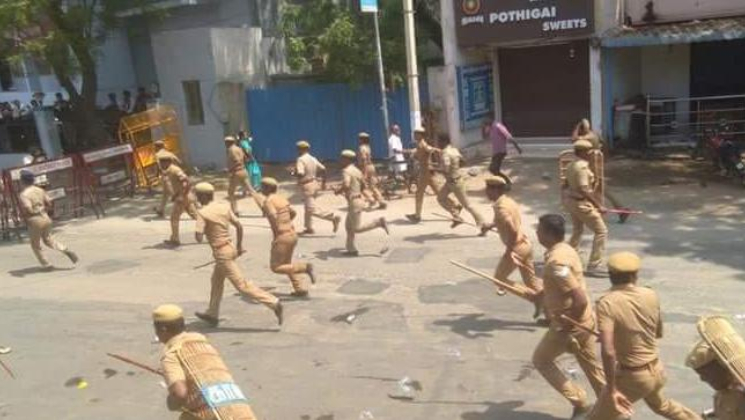 Protests in Tuticorin have taken a turn for the worst.
Barricades were put up by the police to stop the protesters who marched to the Thoothukudi Collectorate against the expansion of the Sterlite Copper plant owned by Vedanta limited. Police fired at the crowds, when the people marched ahead, breaching the barricades and entered the Collectorate. By Tuesday evening, more than ten people had lost their lives in the violence. (While TN government says 9 people have died, TN Governor put the number at 11).
Tamil Nadu government says that the actions were unavoidable, visuals telecast by Tamil TV channels Puthiya Thalamurai and News 18 Tamil Nadu say otherwise. The visuals show policemen in plain clothes taking aim from atop a police van and firing at protesters.
A government statement said, "The mob resorted to violence, set on fire police vehicles and those parked at the collectorate and pelted stones at the collector's office. To bring the violence under control, under unavoidable circumstances, police had to take action. To maintain law and order additional police personnel have been sent to Tuticorin."
43-year-old Kittu, protester and eye-witness on the ground says, "They lathi charged us indiscriminately even though we were peacefully marching. Women and children were brutally hit with sticks and butts of guns. They even began shooting. How could we quietly watch this injustice?"
Sterlite Copper represents the copper unit of Vedanta Limited which operates a 400,000 tonnes per annum-plant in Tuticorin.
Image Source – India today, Puthiya Thalamurai