Daily Horoscope 17th March 2020: Check Astrological Prediction For All Zodiac Signs
Check out today's Horoscope for all the zodiac signs.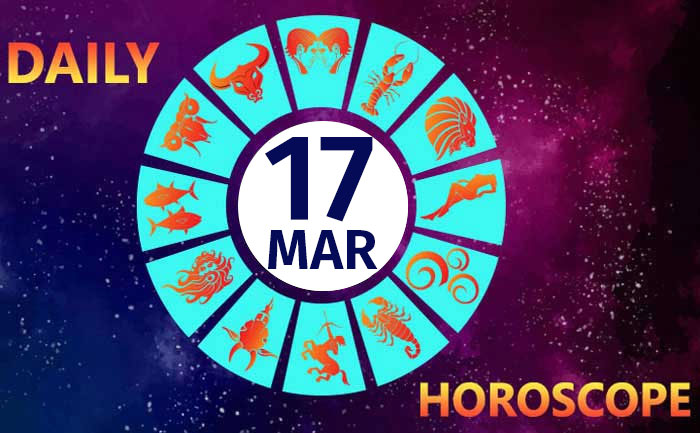 Horoscope Today, March 17th, 2020: IF TODAY IS YOUR BIRTHDAY: Your radical number is 8.  Pisces, you are a determined, motivated, but a restless person! But also adaptable, loyal and loving.   If you feel something is worthwhile, you will pursue it with great fortitude. You are always willing to devote time and effort to your loved ones. Your lucky numbers are 2 and 8. Lucky colours for you are Turquoise and Maroon. Saturday and Thursday's are lucky for you.
Horoscope Today, March 17, 2020: Check today's astrological prediction from all sun signs
Daily Horoscope ARIES:
Travelling to a distant place can get you all excited. You are likely to impress your seniors on the professional front. Be careful while lending money. Keep health in mind in whatever you do and in whatever you eat.  On the romance front, you will have to wait a little more to get the desired results. Lucky Colour: Maroon
 Daily Horoscope TAURUS:
You will enjoy an evening out with your partner. Some of you may inherit ancestral property.  The financial condition is set to improve for some.  All aches and pains, you have been suffering from, simply disappear.  Those hopelessly in love may meet the person of your dreams.Lucky Colour: Coffee
 Daily GEMINI Horoscope
Excellent performance on the academic front will bolster your self-confidence. Loaned money will be returned sooner than expected. Health remains satisfactory. On the work front things work favourably in your favour if you listen to your seniors. The romantic front is in need of excitement so give your partner some surprise. Lucky Colour: Pink
Daily CANCER Horoscope:
Paying your respects in-person to an out of town family elder is possible.  Your sympathetic attitude towards someone in need will prove great emotional support. Financial worry becomes a thing of the past as you search out new avenues for earning. Window shopping with a partner will enhance togetherness. Lucky Colour: peach
Daily LEO Horoscope:
Returns from property and investments will keep your coffers brimming. Someone may expect a helping hand from you on the social front. Money invested in a scheme may not give the expected returns. A new exercise regime can bring positive results. Some of you may receive a gift from a secret admirer. Lucky Colour: Grey
Daily VIRGO Horoscope:
Your focus may waver on the academic front take care. Money acquired should be saved for future. Healthy dietary habits will find you alert and energetic.  Those looking for love will find luck favouring them today. On the work front, you may face a setback. But things will be on track soon. Lucky Colour: Saffron
Daily LIBRA Horoscope:
Travelling with friends proves loads of fun. You are likely to come out with flying colours on the academic front.  You are likely to derive immense satisfaction from a job you are currently involved in. You will be motivated to adopt a healthier lifestyle. Lover is likely to respect your decision for waiting. Lucky Colour: Rosy Brown
Daily SCORPIO Horoscope:
The day turns excellent for you and will affect your performance in a positive way. Good returns from a property deal are likely for some. Your seniors will be impressed by your performance on the professional front. Changing weather can take its toll on your health. Lucky Colour: Beige
Daily SAGITTARIUS Horoscope:
A word of praise will be enough to get you going on the professional front. Those requiring a loan will be able to get it sanctioned. Your encouragement will help a family youngster to excel. Plan something for a romantic evening out today.  Lucky Colour: Green
Daily CAPRICORN Horoscope:
You are likely to enjoy the company of a young member of the family. This is a good time for you to gain lost ground on the academic front. Time is good for whatever you have planned for on the professional front. There will be no complaints on the health front. You will find yourself in an extramarital affair. Take care Lucky Colour: Magenta
Daily AQUARIUS Horoscope:
Someone in the family is likely to raise your prestige. You are likely to thwart all the competition on the academic front to emerge the winner. Financial problems can force you to make compromises in your quality of life.  Heartening news may greet you on the romantic front. Lucky Colour: Coffee
Daily PISCES Horoscope:
A family get-together or an outing will prove exciting. Students are likely to fare excellently. Do not leave your projects midway it will have an adverse effect on your professional image.  On the health front, you manage to keep ailments at bay. Your charm and wit will attract someone from the opposite camp. Lucky Colour: Lavender
Also Read:   Daily Horoscope 13th March 2020: Check Astrological Prediction For All Zodiac Signs