Daily Horoscope 20th March 2020: Check Astrological Prediction For All Zodiac Signs
Check out today's Horoscope for all the zodiac signs.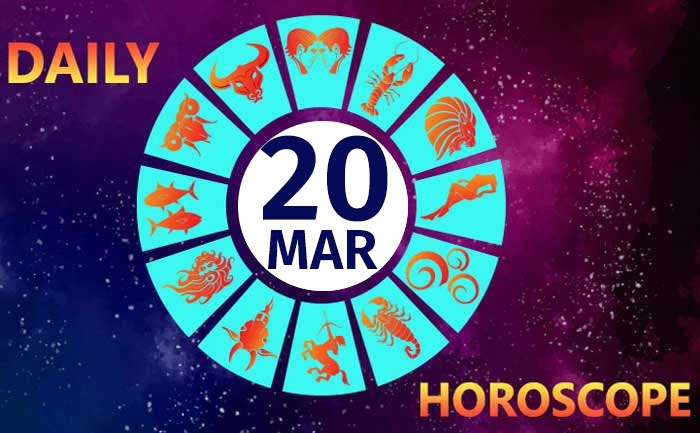 Horoscope Today, March 20th, 2020: IF TODAY IS YOUR BIRTHDAY: Your radical number is 2. Being a Pisces born on March 20th, you are well known for your passionate and experimental nature. When you feel something is worthwhile, you do not hesitate to devote time and effort to pursuing it. Silver is your lucky colour and Thursday and Monday are your lucky days.
In this article, we have brought you today's astrological predictions for all the sun signs like Gemini, Scorpio, Leo, Taurus, Cancer, and others. Check out the astrological prediction for all zodiac signs.
 .
Horoscope Today, March 19, 2020: Check today's astrological prediction from all sun signs
Daily Aries Horoscope:
The stars say that love is in the air for you today. Keep your eyes open. Today you are also inclined to receive a gift from an unexpected source. It is a good idea to continue doing yoga and running practices. Today is the day when you may take the final step to quit your job.  This will be a good day for students and they will achieve their goals. Lucky Colour: Light Blue.
 Daily Taurus Horoscope:
Daily GEMINI Horoscope:
Today is a great day to be adventurous. The lady luck smiles on your fortune. If you wish to invest, this is a good time to do it. Expect to meet the true love of your life around the corner. Be cautious about your health though, you are prone to the eternal cough and cold attacks.  Your career is poised on the verge of a major breakthrough. Lucky Colour: Brown.
Daily CANCER Horoscope:
Someone whom you consider close might spill the beans on you. You may meet an old acquaintance and together you may have nostalgic memories. Low levels of energy and poor stamina are indicated for the day.   Take care of your health as an eye-infection may bother you. Students will get good results. Your attempts to find a place in some bodyメs heart will impress them well! Lucky Colour: Lemon
Daily LEO Horoscope:
Leo sign people will get success in all their works. You feel at the top of your physical health.  The business and salaried people may make significant gains. The bond between married couples will get stronger. There will be favourable situations for monetary gains. Your fair play will be much appreciated in a family situation. Lucky Colour: Light Grey
Daily VIRGO Horoscope:
Virgo sign people will be bothered by health-related issues.  Do not skip exercise any day. Everything will go on smoothly in the workplace. You are going to meet someone who will offer you an exciting career opportunity. Be alert while driving any vehicle.  Expect to enjoy some great romantic gestures towards the end of the day.  Lucky Colour: Peach
Daily LIBRA Horoscope:
Libra sign people may good news related to your job. Students will make many achievements today.  Your eyesight is getting weak day by day do take care. Enjoy some romantic time with your partner today. You will be filled with a sense of contentment and wonder. The day is quite favourable for job-related ventures today. Lucky Colour: Light Grey
Daily SCORPIO Horoscope:
Scorpio sign people will get success in their job-related tasks  Your health will remain good today.  You will be pleased about the completion of some work. You should closely monitor your pulses, sugar level, and blood pressure. You will be required to extend your unconditional love and support to your partner. Lucky Colour: Coffee
Daily SAGITTARIUS Horoscope:
Sagittarius sign people will have to put in extra effort in the workplace.  Take care of your health. Do not pick up conflicts with your life partner. You may wipe your differences with someone close to heart. The uniqueness of your work will be known and respected by all when it will be opened up!  Lucky Colour: Bottle Green
Daily CAPRICORN Horoscope:
Capricorn sign people will be bothered by unnecessary running around and heightened expenses. You will have to face obstacles in the workplace. Take care of your health as a serious illness may trouble you. Minor tiffs may happen today with your partner. Avoid confrontations today. ᅠLucky Colour: Dark Grey
Daily AQUARIUS Horoscope:
Aquarius sign people will get a solution to an old problem. Your familial and marital life will be good.  You will enjoy the bliss of your parents' affection and support. You may come across new acquaintances or friends today! Your financial issues will be taken care of as the day progresses. Lucky Colour: Coffee
Daily PISCES Horoscope:
Pisces sign people will get good gains in their business deals.  Take care of your health as there are chances of getting cold and cough. This will be an excellent day for students. Look out; your partner is still on the shore waiting for you.  People will look up to you for your ability to act well and get things done in a perfect way!  Lucky Colour: White
Also Read:   Daily Horoscope 18th March 2020: Check Astrological Prediction For All Zodiac Signs