Daily Horoscope 25 December 2019: Check Astrological Prediction For Aries, Capricorn & Pisces
Today's Horoscope for all the zodiac signs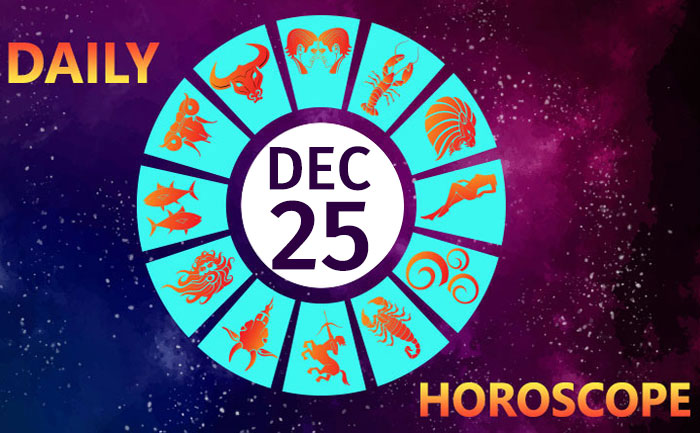 Horoscope Today, December 25, 2019: IF TODAY IS YOUR BIRTHDAY:  Your radical number is 7. As a Capricorn born on this day, you are a kind and cheerful person. You are also attractive and you communicate well with others as well. Your ruling planet is the Sun. Lucky numbers for you are 1 and 7. Lucky colors are Indigo and Sea Green. Monday and Saturday are lucky for you. Garnet is your lucky stone.
In this article, we have brought you today's Horoscope December 24, 2019, for all the sun signs like Gemini, Scorpio, Leo, Taurus, Cancer, and others. Check out the astrological prediction for all zodiac signs.
Horoscope Today, December 24, 2019: Check astrological prediction
You make a wonderful leader, as you are straight forward, assertive and have the competitive spirit in you to make your team excel. The day will keep you committed to the work you have received. Your co-workers like to work with you as you are receptive to their problems. Today there are chances of you surrendering your heart and soul to someone special.  Off white is indicated to be favorable for creative endeavors.
Daily Horoscope TAURUS
Today could bring some discord in your relationship with your partner or other relatives. You may feel that they are trying to control you or your relations with other people. Maybe you are simply being sensitive about this.  Find some time that you can spend with your loved ones while leaving the cares and worries of the rest of your life behind. Lucky colour for you today is light green.
Daily GEMINI Horoscope
It must feel great to be trusted enough by the others to open up in front of you.  This ability of yours will be recognized by your seniors at your workplace and you will be given an important portfolio to make newcomers feel comfortable.  When you speak, people like to listen. This is a commendable trait in you. Take care of your partner's feelings. Sea Green colour will bring peace to your mind.
Daily CANCER Horoscope
You give your whole in a relationship, Cancer, and you expect the same in return.  You may not want to burden the others with your problems, but deep inside, you wish that they would notice it themselves. Stop brooding and hoping.  It is not that the family does not love you. Shades of Red will bring positive cosmic energy. This will be a very successful day as far as your love life is concerned.
Daily LEO Horoscope
Today, you could be anxious and negative about the decision you have in hand. You wanted to go all the way with this commitment, but are hesitating, as you do not have the means or ability to take it till the end. Do only what is within your means. Light orange colour will keep negative energies at bay.There are chances of you giving your heart to someone special as you fall in love.
Daily VIRGO Horoscope
The day could make you feel melancholic today. Sadness is part of life, Virgo and it allows us to be thankful for happiness. But today, an inane reason such as an unclean room may trigger your mood to be off.  Do not let others' actions upset you. Wear dark red to keep negative energies at bay. A new romantic entanglement will add spice to your life, keeping you in a happy mood.
Daily LIBRA Horoscope
You may have been stressed for some time now, Libra, having to face an obstacle that may have been hampering your progress. You could get the feeling that you are fighting a battle all alone.  Remind yourself that you have the ability to get past such obstacles, with or without help. Wearing light purple will attract positive energy. Today you may feel a little disappointed by something your partner did recently.
Daily SCORPIO Horoscope
The day will make you frustrated and annoyed today, as you may be experiencing a series of frustrating mistakes with an ongoing project. Not being able to control the co-worker's attitude is the reason for all the roadblocks coming your way. It is time to pull up your socks now, Scorpio. Wearing something in Indigo will attract good luck. You are likely to brighten the day of your beloved with a small gesture of love.
Daily SAGITTARIUS Horoscope
You need a better bank balance, just so you could indulge in discovering new places and meeting new people. Being intelligent, you generally have your own ways and means to generate the required finance; but today you may be feeling helpless. Wear Yellow to attract positive cosmic energy today.  Today if you are unsure about your relationship you should consider taking the advice of a close friend.
Daily CAPRICORN Horoscope
You have always been ready to extend a helping hand to people and they have completely relied on your judgment.  It is your practical nature that makes others blindly follow what you recommend. But today your mind will seek some peace and solitude from the daily regime.  Wearing pearls will prove to be lucky.  Take the time to listen to your partner and provide the necessary support. Try to lighten the mood as well today in order to bring some relief to an otherwise stressful situation.
Daily AQUARIUS Horoscope
For the Aquarius, the day is all set to be bright and full of options. Get out of the house spend the day with family and friends. You have certain expectations from yourself that you want to be sure you will be able to fulfill.  You are blessed with such an amazing intellect. Couple that with your creativity. Wear Red for luck.  Your new, positive outlook on life will catch the attention of your partner and will make them happier to be around you.
Daily PISCES Horoscope
Dear Pisces, you may want to break free of an ongoing situation in your life today. You had wanted to pursue some dream of yours, but the others found it to be a little off the track. Don't give up on your dream, Pisces. Start working on it with a positive attitude.  Wear something in Pink. Today is a day for you to clear up any doubts you have about a potential marriage partner.
ALSO READ: Weekly Horoscope December 22-28: Check Astrological Predictions For All Sun Signs