Daily Horoscope 26th Sept 2021: Check Astrological Prediction For All Zodiac Signs
Daily horoscope 26th September. Check out today's Horoscope for all the zodiac signs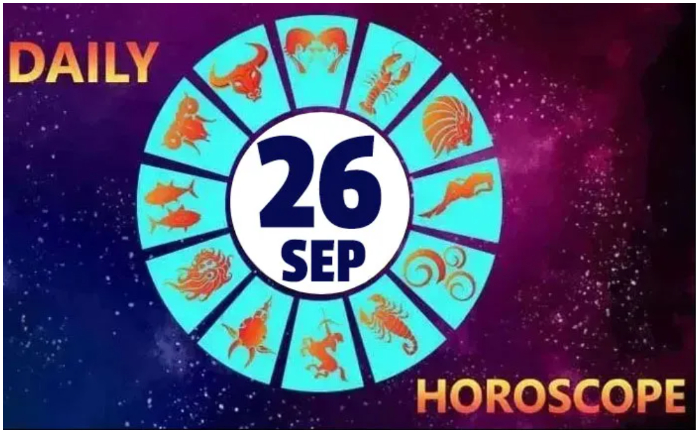 Horoscope Today, September 26, 2021: IF TODAY IS YOUR BIRTHDAY: Your radical number is 6. People born on 26th of September are usually mostly optimistic, diplomatic as well as imaginative. They love to be social and most comfortable in being around people. The lucky color for those born on the 26th of September is white and purple. The luckiest numbers for those born on the 26th of September are – 21, 23, 97, 31, and 43. This article has brought you today's astrological predictions for all the sun signs like Gemini, Scorpio, Leo, Taurus, Cancer, and others. Check out the astrological prediction for all zodiac signs.
Horoscope for September 26: Check today's astrological prediction
Daily ARIES Horoscope:
You might discover yourself to be precarious position today. There might be a few challenges coming your way. Go with the flow, these are the temporary challenges. You might feel as if nothing is working, still pay attention to your goal. Taking break for rejuvenation is suggested.
Daily TAURUS Horoscope:
The day is favourable for you. Involve yourself in making financial and business deals. Moderate amount of luck is on your side. Pay attention to your relations and family circle. Leave no stone unturned in making your loved ones happy. Spending a small fortune to get what you want can bring you luck.
Daily GEMINI Horoscope:
Its the day to resume your spiritual regimen if you had aborted the schedule a while ago. You may feel the urge to change your life. Adopting healthy new habits will make you feel satisfied. Its time for yourself to connect with your inner self. Although there are a few challenges and unpleasant environment around you, pay focus on connecting with your inner self to solve issues in life. You don't need a lavish treatment, just practise mindfulness or meditations. You will experience the new beginnings.
Daily CANCER Horoscope:
You are likely to be a little over-zealous and over-analytical today. You should not to be too forceful or severe on others. This will help you save a few friendships and will make sure that your reputation remains intact. It is best to avoid conflicts and differences with your peers and bosses.
Daily LEO Horoscope:
Avoid yourself  from getting embroiled in arguments with the family or close friends. You might be struggling to maintaining a healthy balance in your relationship. However, your inner light will guide you towards joyful coexistence. You may choose to lose an argument in order to win over hearts. Remember that losing a battle is sometimes the only way to win the war. Try to be in a pleasant environment.
Daily VIRGO Horoscope:
Today you shall avoid procrastinating. Be proactive and take up the challenges in your business, financial and legal matters. Planets surrounding you are sending good vibes and energies. You can take big decisions in finance or legal matters. It is suggested for you to come up with out-of-the-box ideas, this will change your life. Make sure of the pleasant time and work for wonders.
Daily LIBRA Horoscope:
For you its the day to resume the pending  tasks. Your surrounding environment is changing and so you need to embrace a new version of you. Meet people who prove to be lucky in your life. Take a few steps towards a successful future by being proactive and welcoming. All the good things in life have humble beginnings, be grounded.
Daily SCORPIO Horoscope:
You shall work towards building a better future. But do not expect radical or dynamic changes. Sudden travel plans might erupt in business or family circle. These travel plans will support your better future. Avoid making purchases with hefty price amount. Spend your hard earned money with consciousness. Patience will reap rich benefits for you.
Daily SAGITTARIUS Horoscope:
You might experience being disconnected with people you love. Don't get caught up with the hurdles and temporary challenges. Try to maintain the balance in work space and your personal life. If you go about pleasing one and all, you may not be satisfied in life completely. Instead focus on enhancing your skills and personality. Your tolerance will not only help you overcome the problem, but also help you in addressing dissent in your cadres.
Daily CAPRICORN Horoscope:
There are good days and bad days. Today will oscillate between the two extremes for you. Your mind might be flooded with negative feelings which might make you feel little miserable and discomfort. Your efforts at work will yield good results in the future, keep putting on efforts. The of the hour is to stay calm and take criticisms in your stride. Dealing patiently with chaotic situations will pay off in the long run.
Daily AQUARIUS Horoscope:
Today is a day of communication and associations. While at a family gathering, you will enjoy chatting nineteen to the dozen! But at work, you may be left teaching, explaining, negotiating, co-ordinating and arranging meetings. A productive but its a draining day for you.
Daily PISCES Horoscope:
You might feel being compromised in your relationships. Try to change the way you treat people and how you expect them to treat you. You might realise the importance of losing an argument to win over a heart. Be involved in yoga and meditation to connect with your inner self.
For more such updates, stay hooked on to The Live Mirror.
Also Read:  Daily Horoscope 25th Sept 2021: Check Astrological Prediction For All Zodiac Signs