Daily Horoscope 30th Nov 2020: Check Astrological Prediction For All Zodiac Signs
Check out today's Horoscope for all the zodiac signs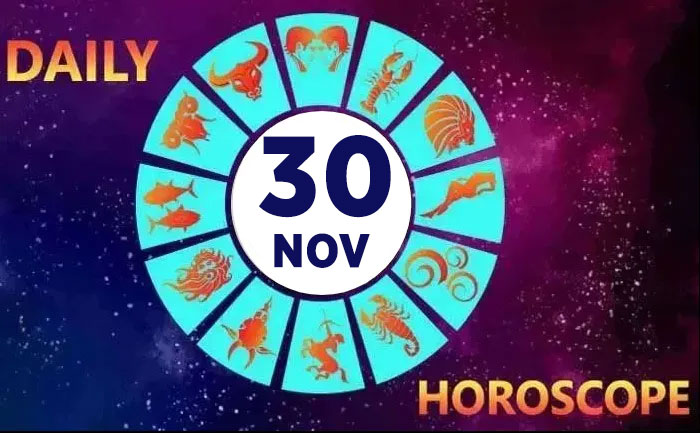 Horoscope Today, November 30 2020: IF TODAY IS YOUR  BIRTHDAY: Your lucky number is 3. A Sagittarius who is positive and is inclined to be pleasure-seeking. You seem excited when you are busy. You love to travel. You like to meet people from different cultures. You typically don't like to be bound to schedules. The lucky color for those born on November 30th is Gold. The luckiest numbers for those born on November 30th are – 2, 5, 9, 16, and 23.
In this article, we have brought you today's astrological predictions for all the sun signs like Gemini, Scorpio, Leo, Taurus, Cancer, and others. Check out the astrological prediction for all zodiac signs.
 HoroscopeToday, November 30, 2020: Check today's astrological prediction from all sun signs
Daily Aries Horoscope:
Some of you may be feeling stressed and upset. This may make you prone to losing your temper and your diplomatic skills may be put to test.  This is a hum-drum day for romance, though there are no major problems on the horizon either. Wear something in golden yellow.
Daily Taurus Horoscope:
Your dreams are all set to come true so step out with a wide smile and win the world. You will feel like taking a break from everything during the later part of the day and go visit some nearby places, it will turn out for the best. Lucky colour is dark blue.
Daily GEMINI Horoscope:
You will be in high spirits today and satisfied use this time to make things work according to your advantage. You will be in total control of your work. Stay away from alcohol today. Exciting day as you receive a call from your beloved. Do listen to the advice given by others.The lucky colour today is amber.
 Daily CANCER Horoscope:
The momentum of your day would be on self-reliance. You are much more capable of things than you give yourself credit for. Focus on your decision-making prowess today and trust your instincts. Your romantic aspects today are very favorable, so take advantage of this situation to the fullest. Blue is lucky for you.
Daily Horoscope LEO:
Today may turn out to be the most important day in your life. A windfall is expected to make your day brighter. The day will be filled with fun and pleasure. Luck will follow you throughout the day enjoy the good times. You will benefit on account of your father. Lucky colour is white.
Daily VIRGO Horoscope:
Some of you will be motivated to get ahead and just get things done. Dear Capricorn, focus on your goals and everything will happen as planned.  Perform acts of generosity that in turn make you feel proud of yourself. Single people should feel very optimistic about their love life today. Avoid wearing anything in black for the day.
Daily LIBRA Horoscope:
The day will be sluggish, so try to relax with a good book. The family will take maximum attention and time, be prepared to spend time with them today. If you're a student or planning to enrol yourself for a course, this is the time. Lucky colour is off white.
Daily SCORPIO Horoscope:
An array of mixed feelings may overwhelm you today.  Do something that you like to do, to wave off any negativity. Couples will make all sorts of declarations to one another, and there is a strong chance of a proposal that will result! Wearing turquoise will help you.
Daily SAGITTARIUS Horoscope:
Monetary issues will be a thing of the past, you will find some new ways of making money that will be successful. The family will shower you with love today, give them your time and attention. Step outside for lunch or dinner with family members. Lucky colour is sea green.
Daily CAPRICORN Horoscope:
Some of you may feel lost and disconnected. Make sure you do not stress yourself over things so much as problems are a part of life. You are exceedingly good at your job. Take these challenging situations as lessons in life. Find practical solutions to evade your problems. Purple is your lucky colour for the day.
Daily AQUARIUS Horoscope:
You are likely to pay maximum attention to family, friends, and relatives. Creativity will be your best tactic for charming the people around you so follow that urge to repaint, redecorate—or even renovate! Some news from overseas will make the day for you. Lucky colour is Violet.
Daily PISCES Horoscope:
Some of you may feel motivated and confident today. You may be willing to make improvements on the personal front and find solutions to any long-standing problems. Today you are feeling flirtatious and are garnering the attention of all those around you. Yellow is your lucky colour for the day.
Also Read: Scorpio Love Horoscope: Personality,Traits, Compatibility And Celebs Born Under This