Daily Horoscope 3rd April 2020: Check Astrological Prediction For All Zodiac Signs
Check out today's Horoscope for all the zodiac signs.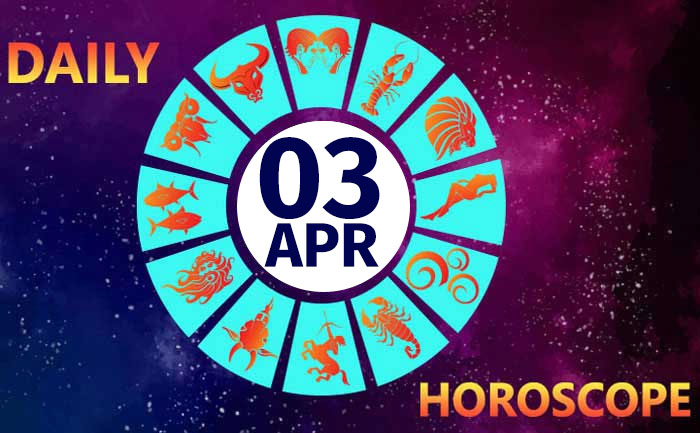 Horoscope Today, April, 3rd, 2020: IF TODAY IS YOUR  BIRTHDAY: Your radical number is 3. As an Aries person born on April 3, you are known to be tough-minded, courageous, action-oriented and, in many cases, brash. For those born on April 3, career fields and salary options rank high on the list of achievements. Red and Green are your lucky colours. Tuesday and Thursday lucky days.
In this article, we have brought you today's astrological predictions for all the sun signs like Gemini, Scorpio, Leo, Taurus, Cancer, and others. Check out the astrological prediction for all zodiac signs.
 .
Horoscope Today, April 3, 2020: Check today's astrological prediction from all sun signs
Daily Aries Horoscope:
Money is not a problem and there is every chance of bagging a lucrative contract for businesspersons. Those not feeling on the top of the world health-wise should remain indoors. You may come in contact with someone who will bring substantial changes in your life Organize something to meet your lover.  Lucky Colour: Lemon
Daily Taurus Horoscope:
Daily GEMINI Horoscope:
Things started today will prove most beneficial. Avoid lending money to anyone on goodwill. Avoid being too blunt with elders as they may not like it. It may be a bit difficult for you to connect with your dearest love today. Consult an expert regarding your investments. Lucky Colour: Chocolate
Daily CANCER Horoscope:
Real estate is likely to hold your interest as you have the financial strength now.  Deskbound professionals will do well.  Long-lasting period of review and frustration will come to an end soon.  Spouse may seem too happy and is likely to spread the positivity. Lucky Colour: Light Orange
Daily LEO Horoscope:
The performance of a family youngster can become a matter of pride for you. Most profitable day is foreseen for those involved in buying and selling.  You will manage to remain in shape through your own efforts. Expect to meet the true love of your life around the corner.  You are fully turned on to work mode today. Lucky Colour: Cream
Daily VIRGO Horoscope:
Those pursuing academics will manage to display steady progress.   It may seem difficult to please a senior today, but you will get around him or her.  Planning an outing with lover cannot be ruled out for some. You enjoy an overall good health.  You may be the target of deception because of your partner. Lucky Colour: Magenta
Daily LIBRA Horoscope:
Those in the service sector may have to deal with some stubborn customers. This is the right time for getting back in shape. Spouse will help you plan something that needs to be done urgently on the domestic front. Stay clear of arguments.  Property-related loans are also likely to be sanctioned today. Lucky Colour: Indigo
Daily SCORPIO Horoscope:
You are likely to get a chance to invest in a financially sound scheme.  Watch out your eating habits to keep health under control. A chance encounter with someone from the opposite gender shows all signs of turning into a budding romance, so rejoice! The day is quite favourable for job-related ventures today. Lucky Colour: Orange
Daily SAGITTARIUS Horoscope:
House owners will succeed in earning good rent from their property. The day is perfect to tackle any difficult project that you had been putting off. Health will remain excellent as you take all precautionary measures. You are in a rather irritable mood today and you are likely to take this out on your partner. Lucky Colour: White
Daily CAPRICORN Horoscope:
Following the advice of someone close is likely to make your money grow. Take care of your health and maintain hygiene. The misunderstanding with your friend will be resolved today. You can receive money from unexpected sources. The mutual attraction may give the required push to a budding romance. Lucky Colour: Turquoise
Daily AQUARIUS Horoscope:
It is important to manage your funds well, especially at this time. Minor health ailments will be easily countered. Time to avoid conflicts and misunderstandings with your partner. If you are unemployed, an opportunity may knock your door. Consider searching for jobs from various fields. Lucky Colour: Parrot Green
Daily PISCES Horoscope:
You are likely to make a positive difference in someone's life today.  A changed routine will be good for overall health.  It is time to renew your love and commitment to each other. Your romantic endeavours are likely to bear fruit as you find a perfect mate. Finances will remain stable as planned for quite a long time. Lucky Colour: Maroon
Also Read:  Aries Love Horoscope 2020: Personality, Traits, Compatibility & Celebs Born Under This Zodiac Sign