Daily Horoscope 7 January 2020: Check Astrological Prediction For All Zodiac Signs
Today's Horoscope for all the zodiac signs.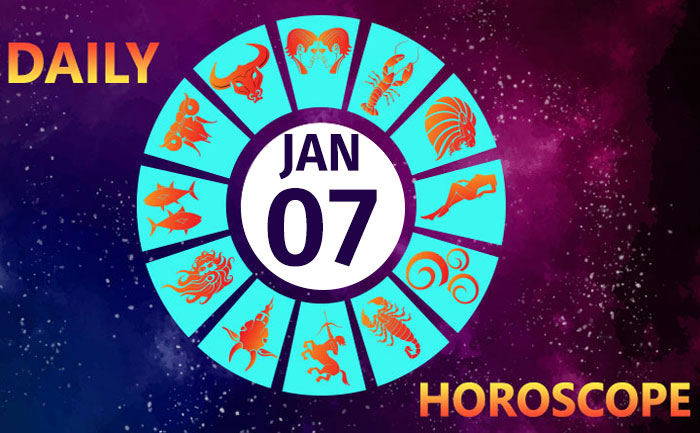 Horoscope Today, January 7, 2020: IF TODAY IS YOUR BIRTHDAY: Your radical number is 7.   Being a Capricorn born on January 7th, your personality is defined by your adaptive, charming and hardworking nature. Ruled by Venus, love has always been easily attainable. Old associations are all set to make a comeback this year. Your lucky numbers are 7 and 8. Lucky colors for you are Black and Red.  Saturday and Monday are your lucky days.
In this article, we have brought you today's astrological predictions for all the sun signs like Gemini, Scorpio, Leo, Taurus, Cancer, and others. Check out the astrological prediction for all zodiac signs.
Horoscope Today, January 7, 2020: Check today's astrological prediction from all sun signs
Daily Horoscope ARIES:
Being impulsive, you end up making mistakes some times and this time you goofed up on your balance sheet. Today you will be worried about your financial situation as some major payments may suddenly crop up this month. You may start brooding about this and go off mood. Take the help of a professional financial advisor. Wearing shades of Blue will bring good luck today.  Today a dear friend of yours may propose to you and this will take you very much by surprise.
Daily Horoscope TAURUS:
You may be made an offer today, that holds a lot of promise of making it big soon. It requires you to work with people who do not think like you.  You can handle it perfectly, but this requires a team effort. This will also encourage you to think positively about this offer, as you may get a chance to learn something new.  Lucky colour for you today is light Green. Today you will be inclined to express yourself openly to your crush.  Your partner will reciprocate in kind.
Daily GEMINI Horoscope
After a really stressed out fortnight, you need to relax.  Your patience could be running thin and you may want some me time.  Catch up on some yoga and breathing exercises to help calm that mind. You will soon be back to your chatty and busy self. Student Gemini's need to take a break from studies to assimilate better. Wear turquoise colour today.  Any hurdles or problems that may have arisen on the domestic front will begin to be removed today.
Daily CANCER Horoscope:
You cannot hold a grudge forever because anything that causes stress eats into your system, making you over-think it. Although you will forgive, you intend keeping your distance from such people. It is not easy for you to forget but though you may be civil to them you will never trust them again. Silver is the colour of the day for you. You may attend a social or family function today and may find someone very interesting is in attendance at the party.
Daily LEO Horoscope:
Although you are so responsible at work, there is an endearing childishness in you. After those promises of a great outing you had made to the family, you are in no mood to adhere to it today.  You may just long to be alone in the comfort of your home, till this feeling passes.  Pale Yellow colour will bring you good luck. Today watch out for a romantic opportunity that comes your way very briefly. But do not let any romantic possibilities slip through your grasp.
Daily VIRGO Horoscope:
You have shown astute patience with some member from the extended family, who has taken undue advantage of your niceness and latched on to you. You are unable to shake off this pest because of family obligations. But today, you will soon be rid of his/her undesirable company.  Wear dark red to keep negative energies at bay.  Today you will find that you are developing regular correspondence with a new romantic interest who may actually be located far away from you.
Daily LIBRA Horoscope:
You are a fair-minded person Libra and the ultimate "people person". You value relationships and will always have your friends back.  Bt today you will feel let down by a close friend who may use some powerful contact to push him/her self ahead from you.  Let your friend know that you are hurt and then leave it at that. Wearing light purple will attract positive energy. If you are single then today you find you are flooded with requests for dates! Pick and choose wisely.
Daily SCORPIO Horoscope:
You have always bottled up your feelings in the fear of becoming vulnerable to people. Today you may want to open up more to a newly formed acquaintance.  You must work on this Scorpio, as you may suddenly find new confidence in you. Mentally you will plan to take up that project that was offered to you, but were hesitant to say yes.  Wearing something in Pink will attract good luck. If you are single you may stumble upon romance in the unlikeliest of places, perhaps even a wrongly dialled number!
Daily SAGITTARIUS Horoscope:
You may be repeatedly getting caught in a situation from where you are not being able to wriggle out easily. Today you will once again find yourself in this awkward situation and will not be able to take a decision.  Sit down and think about this and then take the bull by the horns. Wear light shades of Blue to attract positive cosmic energy today.  You may meet someone at a formal occasion. Keep your eyes open-it could be the person you least expect!
Daily CAPRICORN Horoscope:
Being an Earth Sign, you don't forgive people easily. Today, you will find yourself forgiving your loved one, who you feel, let you down when you wanted his/her help the most. A voice deep inside of you is telling you to move on but you have been having a hard time to forgive. You have been avoiding any face to face confrontation with him/her, but today, you will not be able to avoid it. Wearing White will prove to be lucky.  Today is looking good for your prospects of meeting someone new. This person may even be of foreign origin.
Daily AQUARIUS Horoscope:
Although you are entertaining, extrovert and intelligent, you do not find it easy to express your emotions. You tend to shy away from speaking your mind to your partner. But today and you will finally want to disclose your feelings to your loved one. Those who are still wondering if they should propose to their partner, today is a good day to do so. You love someone, just say so. You must learn to trust people.  Lucky colour of the day is White.  This will be a promising day, as love may enter your life and lift your spirits.
Daily PISCES Horoscope:
The Moon in Taurus will urge you to take a break from work today and relax. You have been toiling diligently for the past few weeks, putting in a lot of time and energy into your pet project. Today, you want to sit back and enjoy the fruits of your labour. Wearing Blue will attract positive energy today.  Your heightened physical charm attracts someone to you. Take a few steps back and first figure out what you would want from this new relationship.
ALSO READ:  Daily Horoscope 6 January 2020: Check Astrological Prediction For All Zodiac Signs