Daily Horoscope 8th April 2020: Check Astrological Prediction For All Zodiac Signs
Check out today's Horoscope for all the zodiac signs.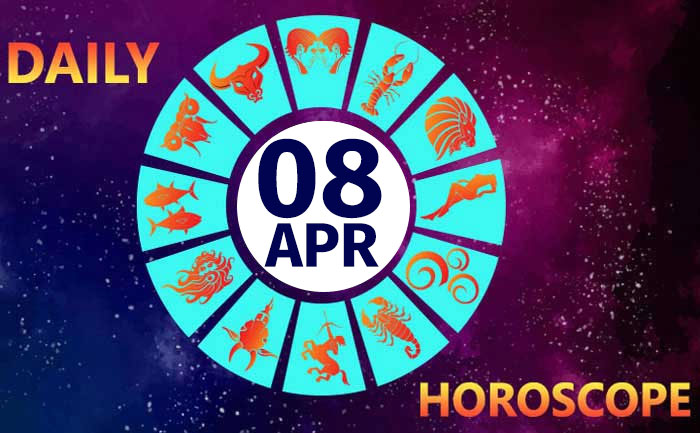 Horoscope Today, April, 8th, 2020: IF TODAY IS YOUR  BIRTHDAY: Your radical number is 8. As an Aries born on April 8th, your ambition and creativity are amongst your most defining qualities. Highly motivated and determined, you set high goals for yourself. While others enjoy the idea of success, you are willing to devote the time and effort necessary to meet your goals. Lucky colours for you are Red and Blue. Lucky days are Tuesday and Saturday.
In this article, we have brought you today's astrological predictions for all the sun signs like Gemini, Scorpio, Leo, Taurus, Cancer, and others. Check out the astrological prediction for all zodiac signs.
 .
Horoscope Today, April 8, 2020: Check today's astrological prediction from all sun signs
Daily Aries Horoscope:
Success is foreseen for those looking for suitable accommodation that fits their pocket. Efforts on the professional front will get you the kind of recognition you desire.  Take care of your health. There is a likelihood of differences cropping up with lover over an issue. Lucky Colour: Grey
Daily Taurus Horoscope:
Daily GEMINI Horoscope:
Legal proceedings in a property matter are likely to take a favorable turn. A deal in the offing promises good earnings.  An atmosphere of peace and tranquility prevails on the domestic front. You will be able to find time to meet lover despite your hectic schedule. Lucky Colour: Maroon
Daily CANCER Horoscope:
Driving will be fun and will help you meet people you had not met in years. Getting invited to a party or a function is possible on the social front. Professionally, you are likely to impress your client.  Some of you can go through some waves of not so good health. Becoming conscious of someone's unusual interest in you may even upset you. Lucky Colour: Orange
Daily LEO Horoscope:
There is no reason to refuse an offer for a new venture. Take the initiative on the property front. Things go smoothly at work. Your financial situation looks bright and is likely to keep you in an upbeat mood. Improving dietary habits will have a positive fallout on health. Lovers will manage to meet and enjoy themselves. Lucky Colour: Light Pink
Daily VIRGO Horoscope:
Chances of spending time with family cannot be ruled out. Some of you may start long-pending construction work at home.  Some of you will fight an infection successfully. An unexpected requirement of money can prove worrisome, but you will be able to tide over the situation.  A passionate evening helps bring you closer to partner. Lucky Colour: Coffee
Daily LIBRA Horoscope:
A property negotiation promises to come to a fruitful conclusion. A good financial situation is likely to open your heart for helping others. Take adequate precautions on the health front. You will find the family members sympathetic to your cause. Catching someone's eye can translate into love at first sight. Lucky Colour: Bottle Green
Daily SCORPIO Horoscope:
You may resolve to start afresh on the academic front to improve your performance.  Financial gains are indicated and can bring you on a firm footing. Special efforts may be required by some to bring happiness back into their family life. Spouse will be in a romantic mood. Lucky Colour: Purple
Daily SAGITTARIUS Horoscope:
A property may finally come into your name,  the paperwork is slated to get over soon.  Health that was causing concern sometime back will improve. A financial dispute is amicably settled. Professionally, you are likely to make good progress. Lover's romantic ideas may simply amaze you, so just follow the directions! Lucky Colour: Yellow
Daily CAPRICORN Horoscope:
A property may fetch you a handsome price. Those on medication will find a distinct improvement in their condition.  Your attempts to consolidate your position at work can face hurdles imposed by your rivals. Chances of a friendship blossoming into romance cannot be ruled out for some. Lucky Colour: Peach
Daily AQUARIUS Horoscope:
A recently concluded family function is likely to bring you back into the mainstream. The acquisition of property is in the pipeline for some. The burden of loans is taken off from your shoulders.  A positive influence on health by changing lifestyle and self-discipline will be quite apparent. Your confidence and style will impress a member of the opposite camp. Lucky Colour: Forest Green
Daily PISCES Horoscope:
Additional domestic chores if not planned properly can leave you fatigued. The possibility of getting a property at a good price cannot be ruled out. Businesspersons will manage to raise the capital to start something new. Words of praise from someone you admire will make you feel good from inside for the rest of the day. Lucky Colour: Purple
Also Read:  Aries Love Horoscope 2020: Personality, Traits, Compatibility & Celebs Born Under This Zodiac Sign