Daily Horoscope 8th March 2020: Check Astrological Prediction For All Zodiac Signs
Check out today's Horoscope for all the zodiac signs.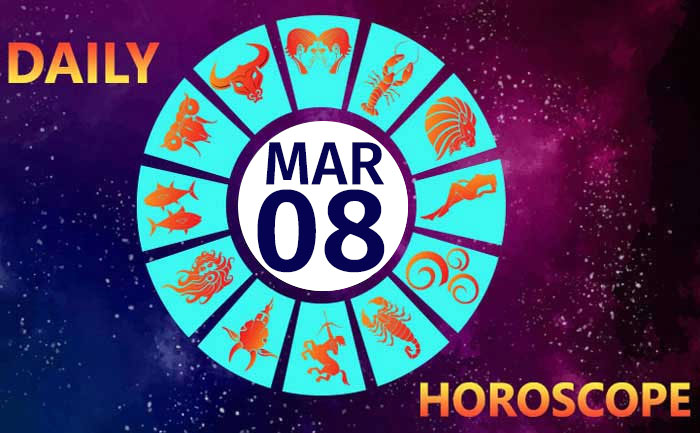 Horoscope Today, March 8th, 2020: IF TODAY IS YOUR BIRTHDAY: Your radical number is 8. As a Pisces born on this day, you are quite known to be a compassionate, caring, spiritual, and intuitive person. You have a very flexible air to you that you can adapt to the personality of whoever finds himself or herself in front of you. Lucky numbers for you are 8 and 2 lucky colours are Red and Green. Thursday and Saturday are your lucky days.
In this article, we have brought you today's astrological predictions for all the sun signs like Gemini, Scorpio, Leo, Taurus, Cancer, and others. Check out the astrological prediction for all zodiac signs.
Horoscope Today, March 8, 2020: Check today's astrological prediction from all sun signs
Daily Horoscope ARIES:
Those planning to travel abroad will be able to complete the formalities without a hitch.  Salaried will do well to invest in a safe saving scheme. Someone close may pay you a visit. The day is perfect for romance and spending a day of fun-filled activities with your partner. You are going to get a good job offer today, but you may have to shift to a different city. Lucky Colour: Magenta
 Daily Horoscope TAURUS:
A visit to parents or grandparents is on the cards for some. A new hobby may help some in employing their time constructively. The money will be well spent on an enjoyable vacation. You are full of powerful energy to help you achieve your desired goals. Somebody special is likely to pop up in your life and kick start a budding romance. Lucky Colour: Lemon
 Daily GEMINI Horoscope
 Your mood is likely to be on the upswing, as someone from your childhood days arrives. Students may have to strive harder to make their mark. You may receive an award for your several outstanding performances. An increase in salary is indicated for some.  Love life will be on a go. Lucky Colour: Peach
Daily CANCER Horoscope:
Your mood is likely to be on the upswing, as someone from your childhood days arrives. Those setting out on a long journey should take all precautions.  A short break from the routine is indicated. There is someone close to you who wants to be your lover. But you wish to keep it to friendship only! Reconsider your decision. Lucky Colour: Light Green
Daily LEO Horoscope:
You are likely to take a break from the routine and plan an out-of-town trip. A challenge on the financial front will be handled by you most competently. Luck takes a turn for the better today. You will have to consult a healthcare expert today for some health-related issues. Minor tiffs may happen today with your partner. Lucky Colour: Pink
Daily VIRGO Horoscope:
Customs and income tax officials reap rich rewards. Those afflicted with lifestyle diseases will find their condition improving. Spouse remains in an upbeat mood, so do some fun things together. Change, revolution, and passion are indicated for you today. You will meet someone from your past who will play an important role in your future. Lucky Colour: Maroon
Daily LIBRA Horoscope:
Those travelling overseas are set to enjoy the trip to the hilt!  You are likely to grow stronger on the financial front.  It is best to avoid excesses to maintain good health.  This is the day of making new connections.  New friendships, partnerships or even affairs are on the cards today.  Lucky Colour: Royal Blue
Daily SCORPIO Horoscope:
A food supplement is likely to prove beneficial to your health. Good control over expenditure is likely to help your savings grow in these inflationary times. You will be filled with professional confidence today. Those romantically inclined may take a step closer to realizing their dream.Lucky Colour: Sea Green
Daily SAGITTARIUS Horoscope:
A family member or friend is likely to accompany you for an important task. Lack of confidence threatens to mar your chances on the academic front.  Money may come to you from a most unexpected source. An exercise regime will begin to show positive results. Lucky Colour: Saffron
Daily CAPRICORN Horoscope:
Trip to vacation by road will prove most exciting. Get set for an invitation to something prestigious. Money matters may take priority over other matters today.  You may get a chance to seal the deal with one of the biggest clients.  Care and support of spouse or lover will provide immense satisfaction. Lucky Colour: Coffee
Daily AQUARIUS Horoscope:
A long lost friend is likely to enter your life once again in the most unexpected manner. An outing is likely to prove expensive, but enjoyable.  Those earning big bucks are likely to get a chance to splurge on their favourite stuff. On the romantic front, you will manage to convey your feelings to partner.Lucky Colour: Yellow
Daily PISCES Horoscope:
You will remain in close touch with a dear one, despite physical distance. . A new environment and a new experience are in store for you and you will enjoy them. A fruit and juice diet will help in bringing the system in line Someone new in your life is likely to bring happiness.Lucky Colour: Cream
Also Read:  Daily Horoscope 7th March 2020: Check Astrological Prediction For All Zodiac Signs