Weekly Horoscope Feb 29-March 8, 2020: Check astrological predictions for all Sun Signs
Get most accurate astrological predictions and weekly horoscope for all 12 zodiac signs for Feb 29-March 8, 2020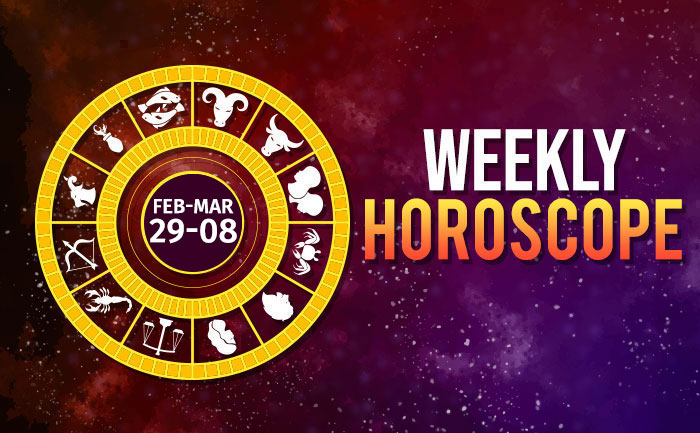 Planets have a big influence on our life. They affect each individual in a different manner as per their Sun Sign. Sometimes they have a positive influence and sometimes it is not so. You must be wondering how this first week of September plays out for you? Do not feel jittery read our weekly horoscope. Follow it, and relax.
Here is your weekly horoscope as per your Zodiac Sign:
Aries:
This week you will enjoy financial prosperity and an amazing career.  All the wishes you made in wishing wells will begin to materialize in your life. This week some problems may ruin the relationship that you share with your partner. Make sure you listen to your partner`s point of view.
This is a very bad time to force your opinions on others. To make sure that there is harmony in your love life you have to trust your partner a bit more. A temporary but worrying health issue (yours or a loved one`s) may periodically concern you, but it will pass.  Find new ways to reduce stress and anxiety and also ways to enjoy a healthy and blissful life.
Taurus:
You may find that your expenses rise this week even though you are making monetary gains. Things continue to work well at work. You are seen as dependable, reliable and consistent, a very earthy member to any team.  A new job is on the cards this week. Teamwork will help you achieve much better results.
This week be careful about engaging in ego battles with your partner. You might not be satisfied with the state of affairs which will make you want to make some changes. Consult your doctor immediately for any health problem that you face this week. Get a complete health check-up done.
Gemini:
This week at work, your brilliant ideas guarantee success, growth, and evolution. Use your voice and speak up.  Everyone at work will appreciate the pace at which you get your work done. Use the assistance of your seniors to sort out some tricky problems at work. If you get a very good job offer from abroad do accept it by all means as it could change your life forever.
This will not be a great week for romance. Singles, steer clear of becoming involved in a new relationship this week. Divorced people may find a new partner by the end of the week. This week you will be energetic and on your toes. But you need to take care of your knees. Avoid water activities as this week is prone to accidents.
Cancer:
This week many of you will enjoy quality time with your mother or with maternal figures in your life. This week, media professionals are likely to get some challenging assignments at work. Good work opportunities are indicated for graphic and web designers. You are at your creative best and impress others with your unique designs.
This week expect to see love blossom in your life. You may just get attracted to someone new and will have a good time by going out on a date with this person.  This is a good week for you on the health front.  Some of you will find yourself inclined towards spirituality and join a meditation program by the end of this week.
Leo:
Sometimes we don't just worry about ourselves, but about others too. This can have a detrimental impact on your health. Discover what the source of your worry is.  Acknowledge that you feel worried, take some small action and let things be.
Your romantic life is likely to sizzle this week. You are feeling very passionate about the one you love. Some of you will be seriously contemplating a commitment.  This week a career counselor will give you a great piece of advice. Your seniors will be highly impressed with your work. Stomach related ailments are indicated for those of you who tend to overeat.
Virgo:
Misunderstandings are often triggered by miscommunication and between partners. So be assertive and ask for the truth you need. Remember, it is better to be hurt with the truth than distorted in a lie. Those of you in a long-distance relationship will be thinking about your partner a lot this week. Expect a happy reunion this weekend.
Unemployed women will find their calling in creative arts or astrology this week. Software engineers looking for a job should not look at changing their field yet. Retired people can think of working as consultants. Elderly people who suffer from joint aches will see improvements. Exercising brings results.
Libra:
If you are in a committed relationship, there's a likelihood that you may find yourself in a dilemma as an old flame returns to your life. Your current relationship may undergo strain as a result.  Those who are yet to find love will need to be patient and not rush into anything right now.
This will be a good week for most businesspeople. Some of you will have enough time to prepare to get into medicine, exports, and imports a good chance. Sales and marketing executives will also have a good week. Healthwise, this week is stable for most of you and you will not face any major health problems.
Scorpio:
In love, you may find there is volatility, chaos or discord.  It is best to try to seek peace, harmony and calm right now. Things may need to be left alone to cool down. This week you need to work a little harder at rekindling your love life. Things will look up for you soon so be patient.
This week will be a smooth sailing one on the work front. You will use this time to your advantage and get all your work done on time. You will finish off all your pending work and will be quite impressive. Those of you who frequently complain of joint aches may face some problem even though it will be minor in nature. Take extra care of your body.
Sagittarius:
This is a very joyful week for you in which everything is on the up. Your personal life is especially enjoyable so take time to enjoy your social life. Home and family will be your source for joy and happiness this week. Surprise your partner with a gift and see the romance rekindle into your life.
Your single-minded approach to work will be met with success sooner than you think. This period will be excellent for those of you who are in the field of publishing and creative writing as you get a lot of new employment opportunities being offered to you. Meditating during this week will keep your mind focused and also bring clarity in the thought process.
Capricorn:
Chances are that you will make a property related profit this week. This week is good for singles as you find someone interesting at your workplace. Those of you whose families have arranged for a match for you, you will get to meet your prospective spouse.
This week you will be kept very busy as you are entrusted with some challenging assignments. Graphic and web designers are indicated to get many opportunities to move their careers forward. Some of you are likely to get a promotion after a long time this week. Steer clear of unhealthy food as you are indicated to fall prey to the temptation of binging.
Aquarius:
You will enjoy strengthened relationships with others, especially younger family members. Your genius is working at lightning speed. You may come up with something truly game-changing. Unattached singles would meet someone special this week and fall in love. The week would prove to be considerably better for married couples.
This week your leadership skills will help you handle tough situations at work much better. Your career will get a big boost. Some great overseas opportunities are indicated. You will feel much better if you embark on a new fitness regime, it will help you stay fit for a longer period of time.
 Pisces:
Financially, you make huge monetary gains. Fame is possible this week.  This week you are likely to meet someone who not only shares your values and goals but is also trustworthy and reliable. Committed couples will sense harmony in their domestic lives and will see romance rekindle in your life.
The hard-working people may see a few ups and downs in this week. You continue to be dependable even during this challenging period of delays bringing out a very promising employee in you.  Do not overexert and eat well. Take care that you do not overdo things.
Also Read:  Aquarius Love Horoscope 2020: Personality, Traits, Compatibility & Celebs Born Under This Zodiac Sign