Daily Horoscope 8th May 2021: Check Astrological Prediction For All Zodiac Sign
Check out today's Horoscope for all the zodiac signs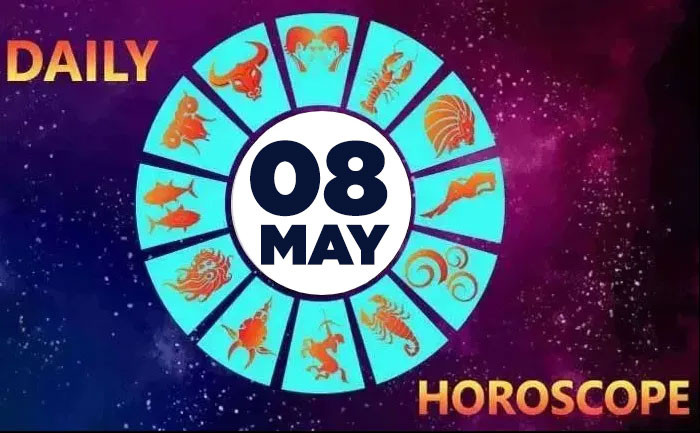 Horoscope Today, May 08, 2021: IF TODAY IS YOUR  BIRTHDAY: Your lucky number is  8. You have a strong will, you are motivated and disciplined. You are stimulated, however, by most challenges. You love being daring in every aspect of your life. As a person born on May 8, you are a very efficient, reliable, and financially responsible person. Your lucky colour is turquoise green. and lucky numbers for you are 94, 57, 89, 72, 2, and 16.
This article has brought you today's astrological predictions for all the sun signs like Gemini, Scorpio, Leo, Taurus, Cancer, and others. Check out the astrological prediction for all zodiac signs.
Horoscope Today, May 08, 2021: Check today's astrological prediction from all sun signs.
Daily ARIES Horoscope:
A completed academic project will get you the recognition you seek.  There will be chances of minor monetary gains.  You might remain tensed about a pending assignment. The writers and teachers will do very well today. Your energy levels will remain high. Your charisma will no doubt attract a lot of attention and a lot of admirers today. Positive signals on the love front will keep you in an upbeat mood. Lucky Colour: Electric Blue
Daily TAURUS Horoscope:
Taurus sign people will find this to be a chaotic and messy day. There will be too many confusions and misunderstandings to deal with.  Things on the work front will move with clockwork precision today.  You will need to take better care of your health. Back off if you want to keep the relationship intact. Lucky Colour: Orange
Daily GEMINI Horoscope:
Gemini sign people are likely to fall ill because of your carelessness. You need to be mindful of what you eat. Take proper rest.  Do not blow your budget by collecting pointless items. You might have to work a lot at home. A change of job is in the offing for some. Someone close to you is cheating on you. Look out for signs. Lucky Colour: Golden Brown
Daily CANCER Horoscope:
Cancer sign people will remain in a good mood throughout the day. Increased self-confidence and vitality make you enjoy every moment of your time.  The salaried people will work without facing any hurdles. Financial troubles for those in debt are likely to be over soon. The lover may strive to put you in a romantic mood. Lucky Colour: Cream
Daily Horoscope LEO:
Leo signs people will reflect on their financial condition and plan new things. Wise investments will be needed to make money grow.  Careless spending patterns could land you in a financial fix. Traders will struggle to earn even their basic earning.  Students may remain confused about their future. Someone you are interested in on the romantic front may ignore you. Lucky Colour: Pink
Daily VIRGO Horoscope:
Virgo sign people will take stock of their financial standing.  Overspending on luxurious items needs to be curbed as finances may be low. A big conflict or tension is possible in the near future in your workplace.  Health may become your priority at this juncture. Your romantic intentions are likely to get richly rewarded. Lucky Colour: Cream
Daily LIBRA Horoscope:
You may be given a position of leadership or responsibility today. Libra sign people will spend a good day on the work front.   There is an urgent need for you to look after your mother. Stay positive and cheerful.   Pick up speed on the academic front and curb all kinds of distractions. Your love for workouts may overstrain you. The lover may give you the silent treatment. Lucky Colour: Light Blue
Daily SCORPIO Horoscope:
Scorpio sign people will recover if there was any illness.   A work done in the past will fetch gains and appreciation. You will continue to enjoy the patronage of good luck.  Use your charm, but don't sign or agree to anything. Don't divulge secret information. This is the time for you to consolidate on the professional front. The romantic front appears promising. Lucky Colour: Off White
Daily SAGITTARIUS Horoscope:
Sagittarius sign people will be loaded with all kinds of responsibilities. You will spend the day working on different things.  There is a need to develop a positive bent of mind. You may feel pain in your legs and feet.  It's a good time to make a decision, come to an agreement, negotiate a deal. Spending time with a lover at someplace exclusive is likely. Lucky Colour: Sandy Brown
Daily CAPRICORN Horoscope:
Capricorn sign people will find this to be a boring day. Try not to let daydreaming and distractions undermine your productivity. There are chances of a stomach infection.  You may need to spend extra hours completing an assignment on the academic front. Some of you might get caught cheating on your partner. Lucky Colour: Coffee
Daily AQUARIUS Horoscope:
Aquarius sign people will speculate and reflect on their professional standing.  You may remain worried about your weak financial standing.  Talk to someone close and ease your feelings. Adjusting to the daily workout schedule may prove difficult.  Those seeking love are likely to be richly rewarded. Lucky Colour: Indigo
Daily PISCES Horoscope:
Keep a close tab on your progress on the academic front. Pisces sign people might feel sluggish and bored.  Spend time in the company of small kids. It will do you good. Adopting some health tips promises total fitness.  Investments that deal with property will be lucrative. A competitor may appear on the romantic scene and vie for your love. Lucky Colour: Lavender
ALSO READ: Taurus Love Horoscope 2020: Personality, Traits, Compatibility & Celebs Born Under This Zodiac Sign