Daily Horoscope 22nd March 2020: Check Astrological Prediction For All Zodiac Signs
Check out today's Horoscope for all the zodiac signs.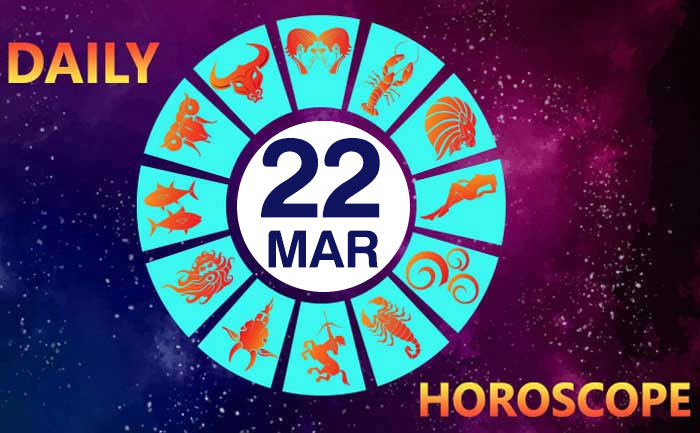 Today, March 22nd, 2020: IF TODAY IS YOUR  BIRTHDAY: Your radical number is 4. Being an Aries born on March 22nd, you are well known for your fiery and passionate personality. Whether it is work or play, you have a strong passion to be the best at whatever you do. Your lucky colours are Red and Purple. Tuesday and Thursday are lucky for you.
In this article, we have brought you today's astrological predictions for all the sun signs like Gemini, Scorpio, Leo, Taurus, Cancer, and others. Check out the astrological prediction for all zodiac signs.
 .
Horoscope Today, March 22, 2020: Check today's astrological prediction from all sun signs
Daily Aries Horoscope:
Aries sign people are likely to make good gains in the workplace. Payments that have been pending since long will come through.  It is best to start the day with a round of exercise, yoga or meditation as this will keep you calm  Your familial life will be harmonious. Keep your temper under control.  Great things are indicated on the career front today. The colour Blue will bring some much-needed peace.
Daily Taurus Horoscope:
Daily GEMINI Horoscope:
Gemini sign people are likely to get some share in their family's lineage. There will be some health-related problems.  Spend your money wisely only after careful consideration. There will be an excessive workload on your shoulders. Known for your wandering eye, your own guilt can drive you to jealousy.  Today could make you green with envy as you see your loved one with someone else.Wear something in lavender.
Daily CANCER Horoscope:
Cancer sign people will remain confident today.  Things will remain normal in the workplace and traders will ear greater profit. Your life partner will support you fully. Today you will be worried about your own health. And typically you will nurse your own self without bothering anyone else in the family.  Blue will prove to be lucky for you today.
Daily LEO Horoscope:
Leo sign people will make sudden financial gains. Things will remain normal in the workplace.  Students are likely to get mixed results today. There will be chances of stomach-related problems on the health front. Today may make you feel that your partner is being too demanding of your time and energy. You may want to seek some freedom. The colour Blue will bring some much-needed peace.
Daily VIRGO Horoscope:
Virgo sign people are likely to make sudden monetary gains. Things will move on smoothly in the workplace. You need to strike a chord of understanding with your seniors. Your familial life will be very good.  Keep yourself away from any kind of stress. Take up yoga and meditation for some peace. Pink is the colour for you.
Daily LIBRA Horoscope:
Libra sign people are likely to receive some job-related good news.  You may get somewhat worried about your mother's health. You will also remain depressed about pointless issues.  Today, you may be absolutely tired of being a 'people pleaser' as it may have stretched your own inner tranquility to its own limit. You need to destress too. The colour Red is good for you.
Daily SCORPIO Horoscope:
Scorpio sign people will remain positive and hopeful about their work. This will be a productive day in the workplace for you. You will complete a lot of your work, if you maintain a strict check on your speech and conduct. Today,  some friends or colleagues will play a low down trick on you.  Wear something in green to attract good luck.
Daily SAGITTARIUS Horoscope:
Sagittarius sign people are likely to get some additional responsibility in the workplace. Your familial life will be normal. You are advised to remain focussed while doing your work. You may feel some muscular and skeletal pain. Wearing a silver-grey colored attire is going to prove lucky for you on this day.
Daily CAPRICORN Horoscope:
Capricorn sign people are likely to make financial gains and get honoured for their contribution.  Your health will remain good still you need to focus on your food and drinks. Your familial and marital life will be harmonious.single Capricorns to be romantically inclined towards someone. Those already in a relationship may want to get passionate today. Wearing any shade of blue will help you attract a lot of positive energy.
Daily AQUARIUS Horoscope:
Aquarius sign people are likely to make some gains in their workplace. You must do any financial transaction with caution.Aquarius make sure you do not have to end up depending on someone to support you financially in your old age.  Grey colour will prove lucky today. Keep a check on your temper else familial and social people might pick up conflicts with you.
Daily PISCES Horoscope:
Pisces sign people will get the support of their seniors and co-workers in the workplace. The day will prove useful for money-related matters. Your life partner is likely to make gains on account of your positive stars.  Students are likely to hear something positive. Wearing dark blue is advised on this day.
Also Read: Daily Horoscope 20th March 2020: Check Astrological Prediction For All Zodiac Signs