Delhi Police issues advisory against 2 suspected terrorists entrance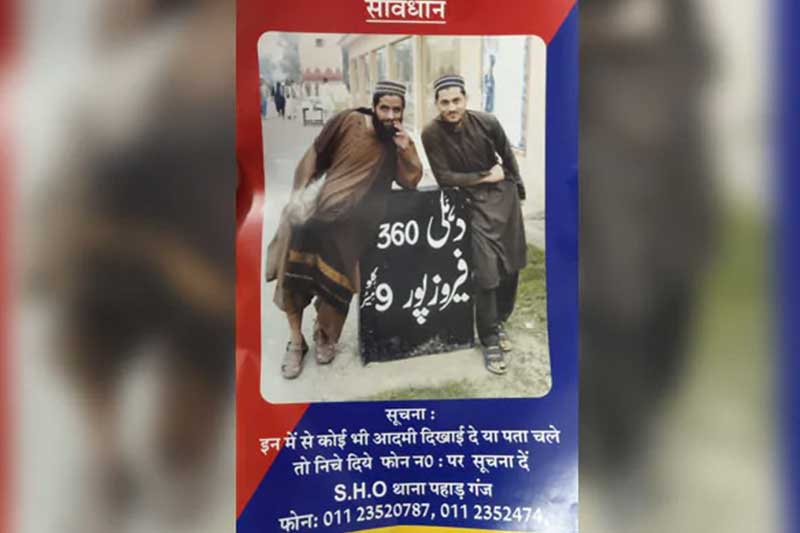 On Tuesday, the Delhi Police has issued an advisory on the likely presence of two suspected terrorists in the city, and have asked the public to keep a lookout for them.
Notably, the advisory also bears a photograph of the two bearded men posing next to a milestone stating 'Delhi 360 km, Ferozepur 9 km' in kurtas and traditional headgear. Anybody who spots them is requested to call the Paharganj police station on 011-23520787 or 011-2352474.
Ferozepur is situated on the India-Pakistan border in Punjab.
Earlier ths week, the Punjab Police was placed on alert, after its counter-intelligence wing suggested that six to seven Jaish-e-Mohammad terrorists 'could be moving towards Delhi' from the state.
In the letter issued by the office of the Punjab Inspector General of Police (Counter Intelligence) to law-enforcement agencies across the state, the agency has sought the installation of checkpoints at all important routes, strict vehicle inspections and the adoption of suitable counter-terror measures.
The notice further read, "There is a need to review and strengthen the second line of defence along the Indo-Pak border, and coordinate closely with the Border Security Force and other defence establishments in your areas."
Infact, a day prior, the Punjab Police issued the intelligence alert, stating that four people had taken over a taxi at gunpoint — sparking fears of another Pathankot-like terrorist attack. Police also said that the suspects who hired the Toyota Innova from Pathankot, forced its driver out near Madhopur and drove off.
Police are yet to ascertain, if the people involved were carjackers or terrorists.
Also read: Wardha: Pulgaon Army depot explosion claims 6, injures many