Disney Plus: Release date, price, shows and more
Here is everything you need to know about Disney Plus: Pricing , Launch Times, Lineup And More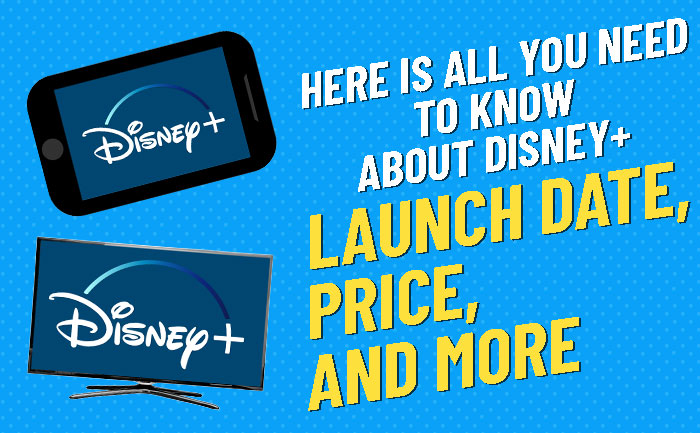 Finally, the wait for Disney fans is on its last leg and Disney Plus with a bag full of goodies will be premiering soon. It is a memorable moment for Disney fans as the channel is all set to stream some amazing content. High School Musical fans to Marvel and Star War movies. Disney is working to bring the entire Marvel Cinematic Universe collection to its Disney+ streaming service, but Spider-Man: Homecoming and Spider-Man: Far From Home are unlikely to be included. As the rights of these films belong to Sony.
popular shows such as Gargoyles, Boy Meets World and X-Men and many more will be available at a low price. Disney+ service is likely to catch on with consumers with its lucrative offerings.
Disney Plus launch date, price, lineups and more:
What is Disney Plus?
Disney+ is a streaming service with much of its content created by The Walt Disney Company. It will include content from Walt Disney Studios, Twentieth Century Fox, Marvel Studios, Pixar, Lucasfilm, National Geographic and more. It will also offer thousands of TV episodes and hundreds of movies.
When Does It Launch?
Disney Plus will be launched first in the United States, Canada, and the Netherlands on November 12th, 2019. Here are the exact timings when it will go live in these countries.
On November 19th, it will go live in New Zealand and Australia. Finally on March 31st, 2020 it will be launched in Germany, UK, Italy, France, and Spain. Other regions will have to wait some more.
How Much Will it Cost?
In the US, Disney+ will set you back $6.99/month or $69.99/year. It's $8.99/month or $89.99 per year in Canada. Here is the link to pre-order.
A subscription comes with:
4 simultaneous streams
4K Ultra HD in Dolby Vision and HDR10
Dolby Atmos support
Downloadable content
For $12.99/month you can get Disney+, ESPN+ and ad-supported Hulu. You'll also be able to add Disney+ to existing Hulu subscriptions.
The Other TV shows, movies and other content that will be available at launch.
You will have Star Wars, Marvel, vaulted Disney classics to National Geographic. And now that Disney owns Fox, that means you'll also see shows like The Simpsons and films like Avatar. Along with this you will also be able to watch animated Beauty and the Beast, Avengers: Endgame, the original Star Wars trilogy, old Herbie movies and many more.
Devices compatible with Disney+
Roku
PlayStation 4
Fire TV
Apple TV
Android
iOS
Chromecast
Xbox One
Samsung Smart TVs
LG Smart TVs
Web browsers
Originals:
The original Disney Plus content will gift viewers with some original films, TV shows, documentaries and much more.
The Mandalorian, starring Pedro Pascal (Game of Thrones) as a bounty hunter. The seventh season of The Clone Wars is also coming to Disney+. The date is not out yet.
Under the Marvel, we have, The Falcon and the Winter Soldier, a six episodes series, The Hawkeye, Loki, Moon Knight, Ms Marvel, and She-Hulk.  
Pixar is getting its very own TV show on Disney+. We have High School Musical,  Lady and the Tramp and many more. Marvel's hero Project and World According to Jeff Goldblum in the non-fiction side.
Disney Plus Features:
Profile: Disney+ users will be able to create a custom avatar for their personalized profile.
Downloading: There will be an option to download Disney+ content so you can watch it whenever you want.
Disney Plus Releases Scheduled for November:
Tuesday, November 12
The Mandalorian – Chapter 1
High School Musical: The Musical: The Series – Episode 101 – "The Audition"
Lady and the Tramp (2019)
Noelle
Encore! – Episode 101 – "Annie"
Marvel's Hero Project – Episode 101 – "Sensational Jordan"
The Imagineering Story – Part 1 – "The Happiest Place on Earth"
The World According to Jeff Goldblum – Episode 101 – "Sneakers"
Forky Asks A Question – "What is money?"
Purl (Pixar SparkShort)
Smash and Grab (Pixar SparkShort)
Float (Pixar SparkShort)
Kitbull (Pixar SparkShort)
Friday, November 15
The Mandalorian – Chapter 2
High School Musical: The Musical: The Series – Episode 102 – "The Audition"
Encore! – Episode 102 – "Beauty and the Beast"
Marvel's Hero Project – Episode 102 – "Incredible Elijah"
The Imagineering Story – Part 2 – "What Would Walt Do?"
The World According to Jeff Goldblum – Episode 102 – "Ice Cream"
Forky Asks A Question – "What is a friend?"
Friday, November 22
The Mandalorian – Chapter 3
High School Musical: The Musical: The Series – Episode 103 – "The Wonderstudies"
Encore! – Episode 103 – "Sound of Music"
Marvel's Hero Project – Episode 103 – "Unstoppable Adonis"
The Imagineering Story – Part 3
The World According to Jeff Goldblum – Episode 103 – "Tattoos"
Forky Asks A Question – "What is art?"
Also Read:  Disney+: Here's how to get Disney's new streaming subscription for free