Sooryavanshi: Akshay Kumar and Rohit Shetty react on a fallout story through video
The actor and director apparently mocked a false fallout story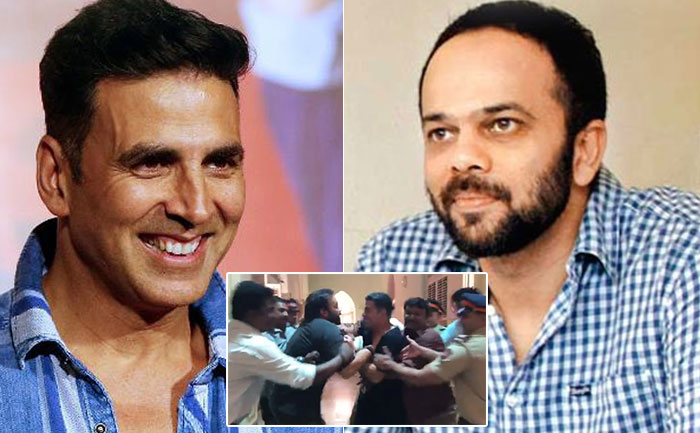 Superstar Akshay Kumar and director Rohit Shetty lately reacted to a false story stating fallout between the actor and director over Sooryavanshi. A hilarious video surfaced on social media this afternoon on the twitter account. Akshay Kumar shared the video on his twitter account.
The action superstar Akshay took to his social media twitter handle and gave a response to a false article on a Bollywood digital website which stated that the actor and director who are shooting the last scenes of their March 2020 film release had a serious fallout and are fighting with one another. Apparently, the report also wrote that the producer Karan Johar had to come in and play the role of mediator.
If it would have been any other actor or director in the film they would have let all this go. Immediately, they made a video that showed them hitting each other blows on the set of Sooryavanshi. Then the supporting cast and the crew came in to be a part of the comedy act going on only to break them up from fighting each other. In the video, Akshay and Rohit struggle and yell, saying, "We have to fight! Let us fight! We have had a fallout!" Check out the video.
#BreakingNews – A fallout which might just make your day ? pic.twitter.com/gH2jgTQqhT

— Akshay Kumar (@akshaykumar) November 12, 2019
Meanwhile, Karan Johar tweeted on the breaking story and shared his view on the his twitter handle. He wrote, ""This is something even I can't mediate!!!"
???? this is something even I can't mediate!!!! @akshaykumar #RohitShetty #KatrinaKaif https://t.co/U78eh3xwgV

— Karan Johar (@karanjohar) November 12, 2019
According to sources, there is nothing wrong between Akshay and Rohit. Also, the film is turning out to be a happy and in amicable completion. Apart from this, in the climax action scene Ajay Devgn and Ranveer Singh along with Akshay lately shot for the scene in Hyderabad.
Also Read: Bell Bottom: Akshay Kumar's First Poster Look Unveiled