The Division 2 Complete Guide: Tips And Tricks For beginners
The Division 2 Beginner Guide: Everything you need to get started with The Division tips straight from the Associate creative director Chardi EI Zibaoui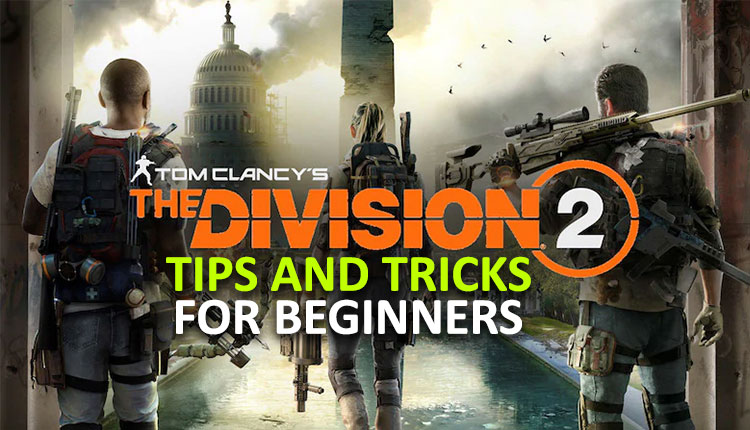 If you have not played The Division 2 and looking for some tips and tricks you are at the right place as we have many pieces of advice from the developer that will definitely help you. The Associate creative director Chardi EI Zibaoui has himself given end number of The Division 2 tips and tricks which would help you make a foray into the game easily. Notably, if you consider yourself a veteran in The Division game these Division 2 tips will help you a lot. In this guide, we will be talking about everything you need to know to thrive and deal with justice and death in Washington D.C. Before getting into the details of the best builds and weapons on offering information about control points, brand sets, Endgame territory and the Dark Zones take a look at some basic tips and tricks for beginners.
The Division 2 – Theme
Once you start playing The Division 2 these tips would surely help you. Our guide for a beginner will help explain everything such as basic topics, including skills, the Dark Zone, weapons, and the secret hunters that you can find in the game in detail.
You should know that unlike the earlier update, this time The Division 2 is set in summery Washington D.C. The map is quite big which shows the layout a one-to-one replica of the city. You have tons of things to see and shoot in the city such as three Dark Zones and various strongholds for your to raid. For your information, there is the Endgame which comes almost 40 hours after you start the game.
Comparing it from the first game, The Division 2 has many new features including how mods work and the skills you can acquire along the way, so we'll be bringing you more guides over the coming weeks.
First Mission – The Division
Talking about the first mission in The Division 2, it gives you vital progressions. Explaining about it, "You need to start by doing the first missions so you can get a taste of the main mission," explains El Zibaoui told GamesRadar. Adding on he said,  "this will also allow you to unlock a second skill slot so you can play with two skills." Once you've got that in the bag then you can wander off and see what's out there. "After that, I would say don't hesitate to go off the beaten track and just observe what's happening in the world."
Explore Washington D.C. in The Division 2
As we have already introduced you to faction-dominated city. Following its introductory mission, you will have to visit several locations which are split into several areas that have a rough level for what is the best time to visit these locations. The moment you unlocked more safehouses, you will be able to see new side missions that accepted by talking to people in the settlements, as well as all the new tech caches that are revealed.
Unlocking safehouse gives you the option to fast-travel, which is done by highlighting the marker on the map, then holding the button displayed on the bottom left of your screen to fast travel (by default, this is the X key on your keyboard).
Unlock Second Weapons Slot First
Like other games, you can unlock weapons when and whatever you want when it comes to skills and perks but one of those options is secondary to go alongside your rifle.  "When you unlock your first skill you also get to unlock your first perk. My advice there is you should start unlocking the second weapon slot," he explains.
"So as soon as you loot a weapon in the world you will have access to two different [options]," he added.
Enemies have armour too
Explaining about The Division enemies, he said that they have empowered enemies with full armour. The developer of the game adviced its users to first find the weak point of their enemies which make it easier to kill or exploit the enemies. "Most importantly," says El Zibaoui, "you have to remember that armoured enemies have different pieces of armour, so you should try to focus on one of those pieces." 
Maintain Your Own Armour
In the game, apart from enemies you also have armour to protect yourself from the deadly rivals. And, in the same way as the bad guys, when your plating fails health can nose dive catastrophically fast. "When your amour goes down you have to be very careful and make sure you use an armor kit to repair it," explains El Zibaoui.
List of The Division 2 Tips for Beginners
Here is a list of The Division 2 tips for beginners that you should keep in mind while playing the game.
While walking on the street of Washington DC, don't forget to keep an eye for any crates and suitcases on the beaten track. These suitcases could be contained of new equipment that you can sell, scrap or use into Project Desks.
Don't leave any stone unturned to use your skills as it will help you wondering on the streets freely but you technically have unlimited use of them outside of that.
Dismantling your gear before it runs out has a 50% lower cooldown than if you let it run out.
You should remember, Grenades are your best friend in this game. The area of effect on your HUD for throwing grenades will be orange if it doesn't hit anything, but red if it hits.  The affected enemies will be highlighted in Division 2.
If the group is small and close-knit, try to just lob a grenade or send a Seeker Mine out there. The enemies won't be alerted until it's too late and you can avoid a prolonged shootout.
You have to change gear quite often, even if you like a particular weapon, it may become vastly inferior to newer stuff rather quickly. Some gear, particularly exotic items, can be upgraded at Crafting stations, but white/green rarity is not worth keeping.
Make sure that before clearing out your junk, you talk to the Project officer at any Settlement to donate in any unwanted items. You can mark junk by pressing V in the inventory menu, but donate junk via the Project menu rather than your inventory.
Make sure you turn on "Numeric Skill Cooldowns" for an accurate representation of when your skills are next live.
Unlocking safehouse will help you find the locations for each of the SHC tech caches in that area.
You can click on any mission, side objective, or tech cache to bring up a waypoint on your HUD. It's the orange line that appears and following it will bring you to your destination.
Once you take over a Control Point, make sure you go to the Supply Room each one has. It's got a lot of valuable loot inside.
You'll occasionally pick up Field Proficiency Cache. Make sure you open these as often as you can.
The transition between cover by holding down the button shown (it's space by default on keyboard and mouse).
Manually reloading the weapon will give you an extra bullet in the chamber.
Double tap the cover button to dodge roll.
Doing a dodge roll can cancel the reload animation, and if you get the timing right with some guns, can give you a full clip.
To prevent you from accidentally moving around a corner while in cover, go to the options menu and turn on "Move Around Cover Corner With Button Press". This will save you some headaches.
To initiate a quicker vault than the standard one from cover, simply break away from cover by holding back on the movement, before pressing the Vault button (Ctrl by default on keyboard and mouse).
Projects in Settlements unlock blueprints, which will need to be crafted separately. Once you've completed the crafting project, head back to the White House crafting station to make the item before immediately taking on another project.
Weapons and armour that are crafted will be made to your crafting level, which is based on your Agent level.
Mods once created are a universal item that's available for use across all available weapons.
Dark Zone perks are allocated via the Dark Zone officer, so ensure you visit them often to allocate any redeemable perks as you progress through Dark Zone levels.
For more The Division 2 Tips you can click here.
Apart from this, we have several guides on The Division 2, that will definitely help you to complete your mission easily.
Check out The Division 2 Guides Below:
Also Read: The Division 2 Best Guns: 7 Best Weapons We Have Found So Far
Also Read: Tips To Unlock Strongholds In The Division 2 – Guide
Also Read: Download Division 2 PC – How To Get Digital Codes
Also Read: Guide: The Division 2 Hard Wired Gear Set, Bonuses & Blueprints Drop Locations