Dolittle Trailer: Robert Downey Jr goes from Iron Man to animal whisperer
Robert Downey Jr goes from Iron Man to doctor in the FIRST trailer of Dolittle; Check it out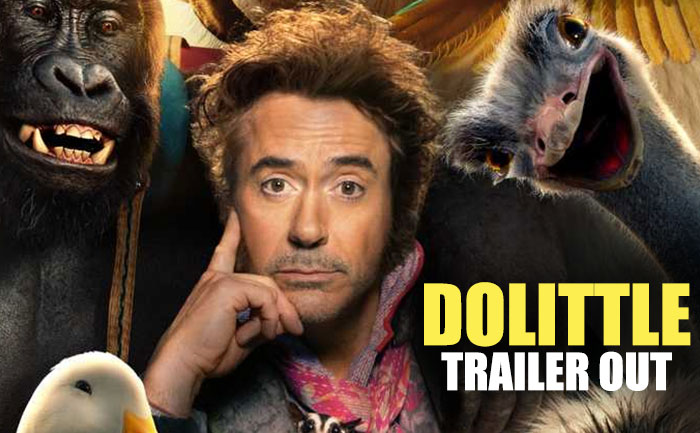 After his swan song in 'Avengers: Endgame', Hollywood superstar is all set to shed his Iron Man suit and don the garb of an animal whisperer for his next. Yes, after giving a smashing hit in MCU's production Robert will be seen as an animal whisperer in upcoming Universal film Dolittle. The makers had recently shared a colourful poster of the film and have now unveiled the official trailer for Robert Downey Jr starrer.
Check out the trailer here:
Dolittle has the Avengers: Endgame actor seen as an animal whisperer in this animal fantasy meets human emotions voyage. Dolittle picks up seven years after the famed doctor lost his wife. He is now on a voyage to a mythical island in search of a cure for the gravely ill queen (Jessie Buckley). Joining Dolittle on his adventure are Chee-Chee the anxious gorilla and parrot Polynesia (voiced by Rami Malek and Emma Thompson, respectively), This is the first non-MCU movie Downey has appeared in since 2014's.
The movie also features The Shape of Water actress Octavia Spencer and Academy Award-winning actress Marion Cotillard. Actors like Jim Broadbent, Emma Thompson, Michael Sheen, Ralph Fiennes and Antonio Banderas. will also feature in the film title Dolittle.
Wrestler John Cena, Kumail Nanjiani, Spider-Man: Far From home actor Tom Holland, Bohemian Rhapsody actor Rami Malek and singing sensation Selena Gomez too are a part of the film. Dolittle will hit the big screen on January 17, 2020.
Also Read: Robert Downey Jr reacts to Martin Scorsese's Take on Marvel movies