Earthquake of 5.7 magnitude hits Lombok region in Indonesia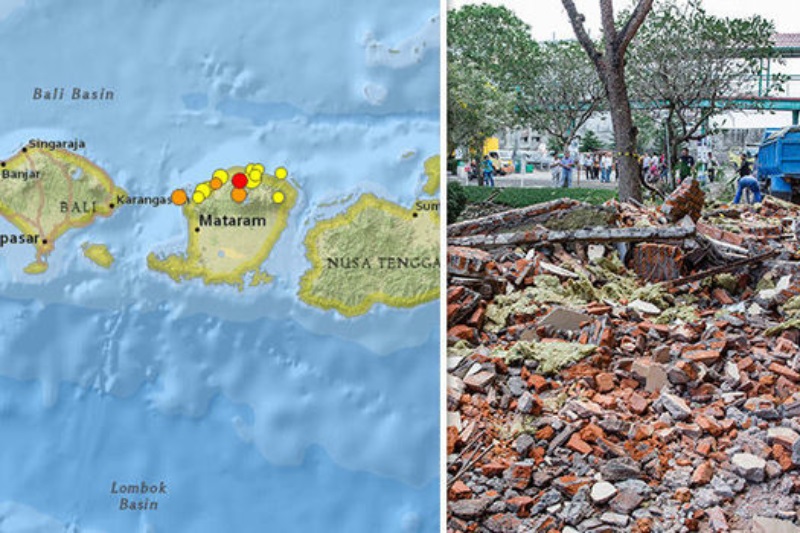 An earthquake measuring 5.7 on the Richter scale struck Lombok region in Indonesia in the wee hours of Thursday. Fortunately, no casualty reported so far.
According to the Indonesian based – Antara News, the 5.7-magnitude earthquake rocked Mataram and West Nusa Tenggara Province of Lombok region in Indonesia. However, the earthquake triggered panic among local residents, including those working at the city government`s offices.
Several civil servants were spotted rushing out of their offices to gather at disaster meeting points while waiting for the tremors to end. Meanwhile, several housewives hurried to their children`s schools to pick them up.
It is to be noted that Indonesia lies on the Pacific ring of fire and therefore it is prone to natural disasters including earthquakes and volcanic eruptions. Over the past few months, a string of earthquakes had rocked Lombok Island, including two of strong intensity in July and August, leading to serious disaster.
According to the National Disaster Mitigation Agency, the strong earthquakes, including the 7.0-magnitude quake that shook Lombok Island on Aug 5, had killed at least 555 people and caused injuries to 829 others.
Most fatalities were residents of the North Lombok District areas due to their proximity to the strong earthquake`s epicentre. The repeated earthquakes also damaged 23,098 houses and led to the forced displacement of 134,236 people.
Also Read: Earthquake of 7.6 magnitude hits New Caledonia