Emma Coronel Aispuro, El Chapo's wife, will make her debut on VH1's 'Cartel Crew'
Joaquín "El Chapo" Guzmán has been sentenced to life in prison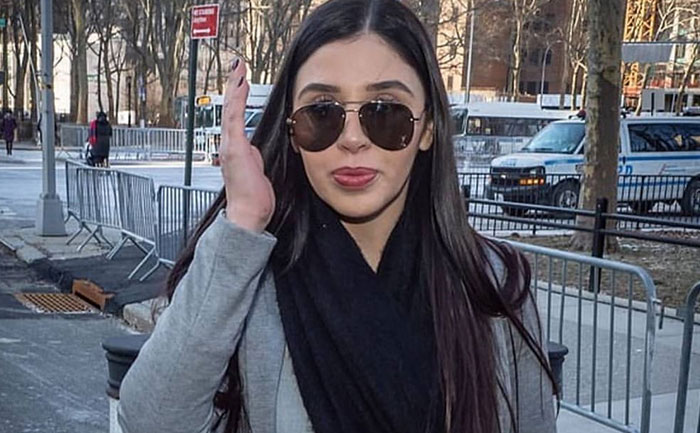 Emma Coronel Aispuro, the wife of drug lord Joaquín "El Chapo" Guzmán, will make her reality TV debut with Cartel Crew. Guzmán has been sentenced to life in prison.
VH1 made the announcement that the 30-year-old will appear on the second season of Cartel Crew. The show follows the lives of Cartel family members. It is reported that Aispuro will talk about "about her life after El Chapo and her upcoming business venture," the network stated through a press release. This venture could possibly be the same El Chapo inspired clothing line she announced early this year.
A sneak-peak clip saw Aispuro meeting Michael Blanco on her yacht. Blancho is the youngest son of the infamous Griselda Blanco, also known as the "Cocaine Godmother." He also stars on the show, according to deadline.com.
Cartel Crew, which is currently running its second season, takes a look inside the lives of the cartel family members as they try to wade through adulthood and the effects being a cartel family member can have on their life.
El Chapo is the leader of the dangerous Sinaloa cartel. He is currently serving a life sentence after being convicted on drug trafficking, firearms, and money laundering charges in July. Guzmán is accused of trafficking cocaine, heroin, methamphetamines and marijuana to the United States amongst other charges. He has escaped from prisons in Mexico twice before he was extradited to the US. There was a high alert around the Brooklyn courthouse where El Chapo was convicted.
Emma Coronel Aispuro and Guzmán have 8-year-old twin daughters Emali and Maria together.
Her first appearance on the show is slated to be next week.
ALSO READ: Mexican Drug Lord 'El Chapo' Sentenced To Life Plus 30 Years