Elon Musk's SpaceX Rocket Explodes After Successful Flight
Elon Musk's SpaceX Starship Rocket Pulls Of Successful Flight Explodes After Landing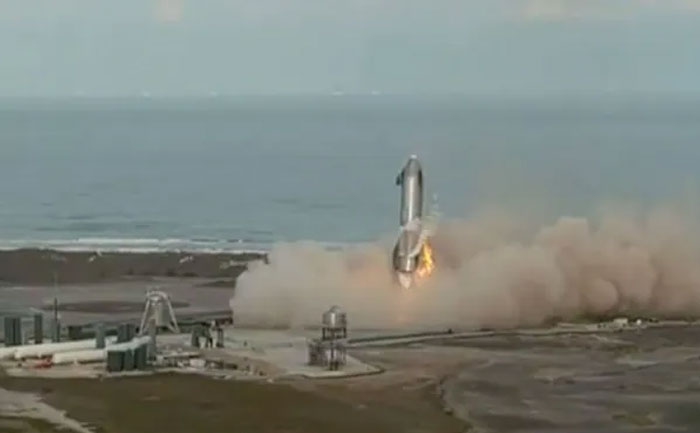 An unmanned SpaceX's futuristic starship rocket pulled off a successful flight. But the rocket exploded post landing. The incident took place a little before 1120 GMT as the latest prototype named SN10, took off from Boca Chica, Texas. The failure took place minutes after SpaceX declared it a success.
Check out the viral video here:
Starship SN10's post landing demise is unfortunate but still, everyone at SpaceX can chalk todays flight test up as a huge success. Become a patron at the link below for photo downloads, behind the scenes goodies, and more. @NASASpaceflight

➡️ https://t.co/h5jW6oXxkQ pic.twitter.com/H6OjBYCKb5

— Jack Beyer (@thejackbeyer) March 4, 2021
As seen on SpaceX video, the rocket was thrown into the air and crashed back to the ground with a huge force sending debris far and wide. Earlier two prototypes SN8 and SN9 had crash-landed in fireballs. The incidents had taken place in December and early February.
Elon Musk is building these next-generation starship rockets for his Mars Mission. The test is taking place in a nearly deserted area in South Texas. It is close to the Mexico border and as it is vast and empty the blasts do not cause damage.
Starship SN10 stuck the landing!! #Starship #SN10 #SpaceX pic.twitter.com/hO7SBVzCkm

— Leandra (@leandrahino) March 4, 2021
If the tests are successful then the rockets can also be used for Moon missions.
Also Read: Elon Musk's Two Word Tweet Post Boost's The Stock Value Of Signal Advance